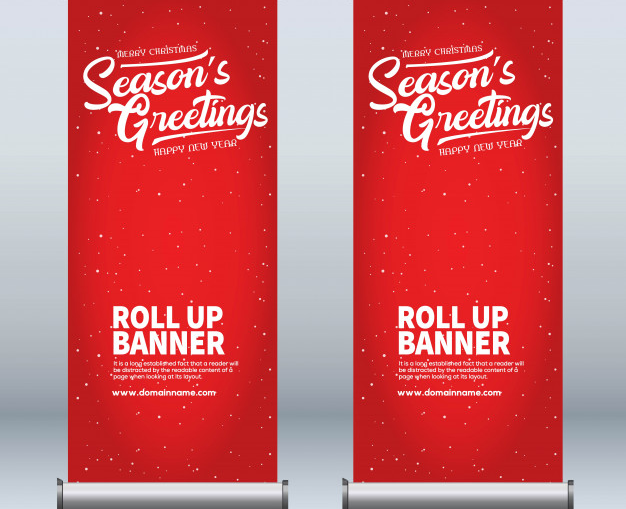 When it comes to creating the perfect display for your office or business events, designing a retractable banner is, by far, one of the most rewarding and fun parts of the process. Here at Mega Format NYC, one of the most common questions our customers ask us is, "where should we start with our retractable banner design?"
Now, if you aren't familiar with retractable banners, these are banners that pull out of and retract into a base or stand—which eliminates the need to hand them up. An extremely popular form of large format printing New York, these are very portable, easy to use, and have a highly professional look and feel to them—which makes them ideal to be used in offices, conventions, and events. Retractable banners are also referred to as pull-up banners and pop-up banners.
We've prepared a list of some pro tips on designing the perfect retractable banner for you. Here it is.
Focus On Your Brand
When designing a retractable banner for your company, your focal point should be your brand. It's important to ensure that your brand's logo is noticeable and prominent. Why? Well, most customers identify a brand through its logo, and some companies are even more known for their logo than they are for their name. American sports apparel giant, Nike, is a prime example. Their swoosh logo is well-known in all corners of the globe. So, make sure your retractable banner features your logo.
Use Styles and Colors That Make the Banner Pop
Understanding the role colors play in design is key to creating an attractive retractable banner. The benefits of using the right colors extend way beyond just aesthetics—it will evoke emotions and feelings in those that approach your design. Now, colors are generally categorized into two categories: cool colors and warm colors.
Warm colors include yellow, reds, oranges, and other similar colors. They evoke feelings of comfort and passion in the viewers of the design. Cool colors, on the other hand, are your greens, blues, and purples. These inspire a calm feeling and can be very soothing.
Balance Is Key
Another critical component of creating a good retractable design is balance. You may be wondering what we mean by 'balance'? Well, one aspect of ensuring a design has balance is understanding that, here in the Western world, people view and read everything top down, and left to right.
However, that doesn't mean you have to left-align everything for optimal balance. With certain sign designs—particularly retractable banners—centering your design can be great. That's because they feature a tall and long vertical form, which lends itself well to centered design.
Consider working with Mega Format for some of the best quality banner stands for your company in NYC. We specialize in double-sided retractable banners, tradeshow pop up displays, self-adhesive vinyl posters, large oversized Invitation Poster and offer custom wall covering printing too. Get in touch with us today for more information.