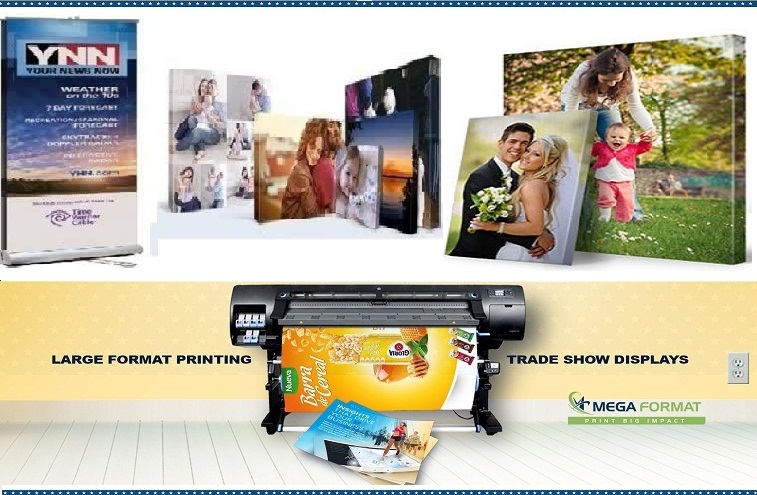 As per the reports, the United States has the highest need for large print media in the world. Printing is an effective tool for advertising a product or services.
When you want to get the word to know about your business or a product you want to reach your audience in an effective manner. This is why printing is the best method as it is highly informative and you can display your message to last longer than a television or radio ad.  When you use print to communicate your company`s features and benefits it allows you to highlight your services that you can offer the customer on a single page. If you're a company that sells a product that is slightly more upscale it is always good to use print media and put together an impressive sales kit, this can includes Posters, Mounted Posters, Canvas, Canvas Wrap, Backlit, Vinyl Banner, Mesh Banner, Retractable Banner Stand, Double Sided Retractable Banner, Pop Up Display, Step and Repeat Banners, etc.
The main concept behind advertising is to get the message across to your target market and hope that it sticks. If you use print you can expect your message to last longer. It retains people for many weeks and passed around to other readers. This, in turn, will create circulation and may help you reach a larger audience.
With constant increases in Large Format Printing Technologies and the variable finishing techniques that can be implemented to give your company that niche in the marketplace, you can paint a detailed picture of your business to entice your customer to look further into your service or products.
Large Format Printing and Trade Show Displays are use of variable data and on-demand printing makes more personalised materials aimed directly at your target. If you need more exposure for your new product line in a New York – Mega Format is where it`s at and it surely won`t break the bank.
At Mega Format Printing, we can help you create a branded marketing message, organize an event, or market to your business goals in any specific situation. Our commitment to quality and service for all of your printing needs are what makes us stand out from our competitors.
Questions? Give us a call today at 1-718-855-2627 we can help!
For local NY customers, we also offer the option for free store pickup.
Why Mega Format??
With over 12 years of experience in big canvas prints. We have hundreds of satisfied and happy customers across the US and have retained them for years, so we are NOT here for this ONE order, but earn your trust and have your business for years to come. We make sure that you get:
High-quality prints which will not FADE and last for years.
Offer custom size canvas printing, to meet your requirements.
100% satisfaction guarantee or money back.
Meet your deadlines – ALWAYS.
Professional & Friendly Service.
High quality at a fair price.
Client satisfaction with high-quality deliverable is the prime focus.