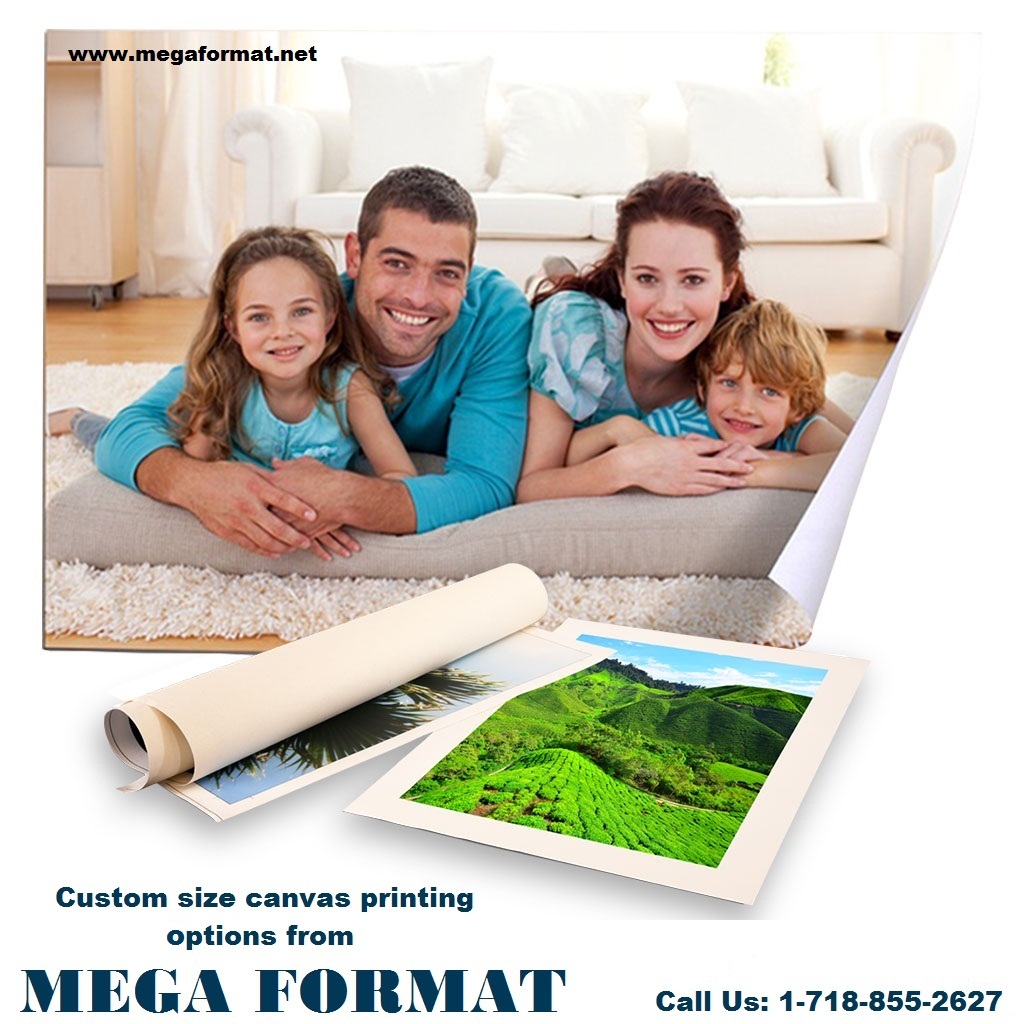 At Mega Format it is easy to create a personalised gifts for near and dear ones in the the form of custom size canvas printing. You can gift them their personal or family photographs in the form of canvas printing. You can print large canvas printing up to 60″ Wide in high quality printing. Take their favourite image and turn it into a custom canvas print for display on a wall that will be seen by everyone who comes into the room. Whether your customers purchase custom canvas prints for their own use or to give as gifts, canvas prints bring any photo to life in a unique way.
Large Custom canvas prints
can be produced from your own file, turn your favourite photo into a piece of art with a real canvas print. Our
canvas looks like a real painted image
, using traditional textured canvas, and can be starched onto stretcher bars, or a wooden panel and displayed in a frame, or as gallery wrap, printed high quality with latex ink which will last for a life time and will not fade.
Mega Format
is one of the few online printing companies offering really
large canvas prints
and large photo printing. We print your digital images on canvas at any shape (aspect ratio) of your choice.
Canvas prints
are created when an image is printed onto canvas and then stretched or gallery wrapped onto a wooden frame ready for display or hanging. To create a canvas print just upload your photo or image, choose the size and shape of your canvas, finish your order and wait for your photo canvas to be delivered. Our online portal –
https://megaformat.net
Sizes You Can Order Online
Mega Format offers high-quality custom size canvas printing options in varied sizes. For online orders, our system offers instant rates for your custom size canvas prints. Portrait size starting from 1 ft x 6 inches to 4ft x 11 inches width and min 2ft to max 145ft in height, Landscape size starting from 2ft to max 145ft width and min 1 ft x 6 inches to 4ft x 11 inches in height, based on your requirement you can enter any size dimensions between these limits and place your order online. If you need sizes smaller or larger than these dimensions, you can send us a request for a quote and we'll be happy to assist.
Material We Use
We use 15 mil. For Canvas print which gives a high quality painted look print, which is used for artists or designers for interior design or home decor, it is also commonly used for office wall art design with the company logo or to present old photos in grayscale with an artistic look.
All our big canvas prints are printed with latex ink which will last for a life time and will not fade.
With high-end technology and years of experience, we at Mega Format are among the finest destination for large canvas prints custommade to meet your requirements in NY.
To make things easier for nationwide customers to order online, we had launched this new site. Now you can simply start by selecting from landscape to portrait, entering your canvas dimensions in feet or inches. Get the instant price quote. Upload your custom artwork or image if you have, if not, you can still order and reserve your spot and send us the artwork later.
We Ship Across USA
We have UPS API integrated into our system, with several shipping options. Simply enter the state, city and zip code to get shipping rates for different options, select the one you wish to choose and check out.
For local NY customers, we also offer the option for free store pickup.
Questions? Give us a call today at 1-718-855-2627 we can help!