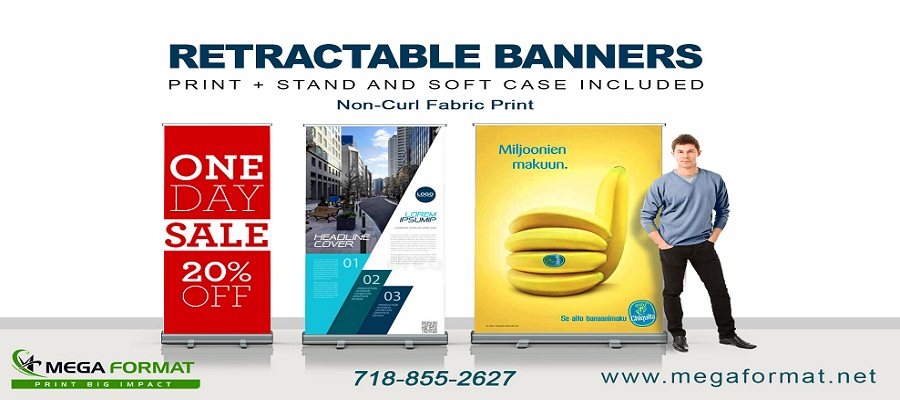 What is A Retractable Banner Display?
Retractable banner display is a very effective tool, easy to use and cost-effective solution for advertising your product or services. Simply put, a retractable banner display is a full size graphic design anchored in a retractable stand that can be unrolled quickly for display. These portable marketing displays put your information front and centre in an eye-catching display that broadcasts your custom message.
Trade Show Displays
These retractable banners are perfect for any type of trade show or conference display. They take very little space up for transportation, are ready to go in seconds, and you can use as many of these as you need to get the right message across. Banners make it easy to put together a professional, affordable, attractive presentation that is easy to dismantle at a moment's notice.
If you are promoting additional information online, putting the website address or a QR code here will make it easier for everyone involved to get to the location you want them to go!
In-Office or Retail Advertising
What better way to greet your customers than with attractive, informative banner displays that put your most valuable products in front of your customers? These can be moved around, and the artwork can be replaced or swapped out easily for seasonal changes, specials, or to tell your customers more about who you really are.
Welcome messages in your hotel lobby
Showcase your services showcase your services
Menu board for special dinners
POS (Point of Sale) display
Speaking Engagements
So you finally got invited to speak at that conference? Asked to participate in a book signing? Congratulations! Now… a retractable banner on stage with you, that has your critical contact data (don't forget to take your NAP when you go: name, address, phone, email and website address!) branding or product information lets them see that information in a way they can't miss!
Sidewalk Sale
If you have a brick-and-mortar store, a retractable banner from Mega Format Printing posted outside your location is the perfect solution for increasing visibility and attention to your event or sale. At the end of the day it's simple to retracted and bring it inside until next time.  Your outdoor display is great for:
Performances and plays
Clearance sales
Restaurant dinner specials
Sporting events
Job Fairs & Community Events
Does your company have a presence at local job fairs? Chamber of Commerce events? Do you participate in local community health or wellness fairs? How about those ever popular home shows?
Leadership events
Health and wellness fairs
Job fairs
Chamber of Commerce events
Home shows
Real estate shows
Craft shows
Book fairs
Music festivals
Art shows
Schools, Colleges, Libraries
Retractable banner displays are perfect for all types of school events. From elementary school carwashes to college playoff events, these are unaffordable, attractive, and convenient way to get the message across in a visual, impactful way. Perfect for:
School welcome-back messages and directions to classrooms
College registration directions
College bookstore information and specials
School or college sport banner flags
Fraternity and sorority sponsorships
Library notices
Graduation event information
At Mega Format Printing, we can help you create a branded marketing message, organize an event, or market to your business goals in any specific situation. Our commitment to quality and service for all of your printing needs are what makes us stand out from our competitors.
Questions? Give us a call today at 1-718-855-2627 we can help!
For local NY customers, we also offer the option for free store pickup.
Why Mega Format??
With over 12 years of experience in big canvas prints. We have hundreds of satisfied and happy customers across the US and have retained them for years, so we are NOT here for this ONE order, but earn your trust and have your business for years to come. We make sure that you get:
High-quality prints which will not FADE and last for years.
Offer custom size canvas printing, to meet your requirements.
100% satisfaction guarantee or money back.
Meet your deadlines – ALWAYS.
Professional & Friendly Service.
High quality at a fair price.
Client satisfaction with high-quality deliverable is the prime focus.