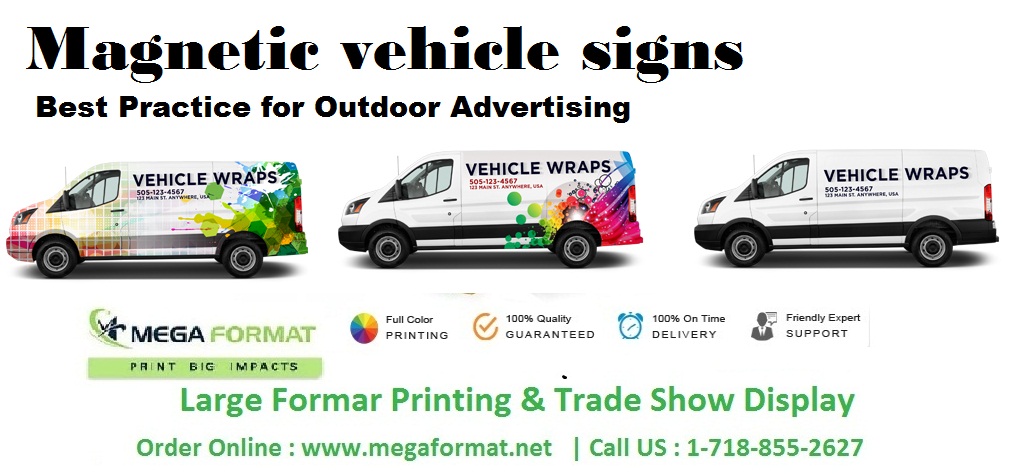 If your business is small, medium or large competition could be quite suffocating whether it comes from customers or clients. If you are an already established brand in the market or have a huge marketing budget where pay per click or big media campaigns are a part of your process, efforts become tolerant. But for a frugal pocket, challenges could peak the scale. Especially for emerging brand or company or consulting industries creativity helps spreading out the word faster.
Magnetic signs
are very cost effective and easy to use as well as reuse; yet valuable marketing. In case one's personal and professional vehicle happen to be the same, they can always put up and take out the sign as and when needed. To take off the sign, simply one can peel it off without leaving scars, dents or scratches to the vehicle. The magnetic strength is also enough to prevent the sign from blowing away in high winds. These signs could also be used for informative purpose, if one has a store opening or a tempting discounted stock sale. Carefully crafted sign could bring in a fine professional edge to your business.
Magnetic signs
can be used on Cars, Trucks, Buses, Magnetic Truck Signs, Magnetic Vehicle Signs are used for front door placement of logo and company information which can be reused hundreds of times without ruining the paint of the vehicle. These services are known as Large Magnet Printing Services.
The magnetic signs are digitally printed in full color so there are no limits to what you can print on your sign. The magnetic signs include a lamination to help protect the print from the outdoor elements. We make magnetic signs for your at any size, any quantity in affordable prices.
With over 12 years of experience in big canvas prints. We have hundreds of satisfied and happy customers across the US and have retained them for years, so we are NOT here for this ONE order, but earn your trust and have your business for years to come
Mega format Inc. uses high quality magnets that holds up even when the vehicle is in motion on smooth or tough terrains. To order simply upload your artwork, containing your logo, short service message and your contact information and we'll print it to perfection. All our signs are simple and lay flat across the door or on the back of the car.
Order your printing requirements through our online portal 
https://megaformat.net
upload your custom artwork and get printed product at your door step across USA. Order online or call us for assistance: 
718-855-2627
. Mail us for custom quote at 
sales@megaformat.net.