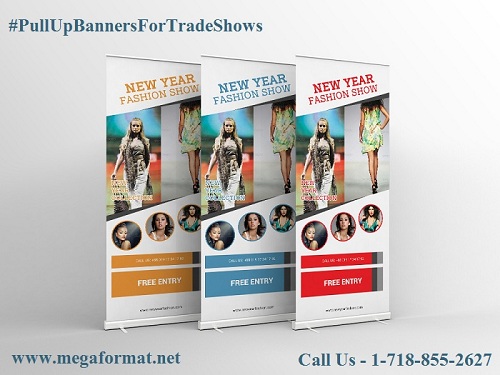 The lightweight Pull Up banners will help to achieve your marketing goals by displaying your message in big, the print rolls into the base and it's a free-standing banner, great for trade shows, it takes up no space from your booth and big enough to attract traffic at your event, also convenience for presentations, conferences, and retail stores. Customers say they use it over and over many times!
Most of the companies, whether corporate or small, use Pull Up Banners as a form of mobile advertising as it is easy to set up and to store away until the next use. It can be used for both indoor and outdoor advertising. This is why they are so important to any marketing strategy. If you think that a pull-up banner will help your business, there are three major types that you should consider Portable banner stands, pop up stands, pop up displays and roller banners are a great source of cheap and effective advertising for exhibitions, retail or shop displays, trade shows, conferences, presentations or advertising events. Pull up banners, or retractable banners are popular as exhibition banners and retail banner displays. They pop-up in just seconds giving you a large advertising banner display at a tiny price and the flexibility to easily move the pull up display around your premises.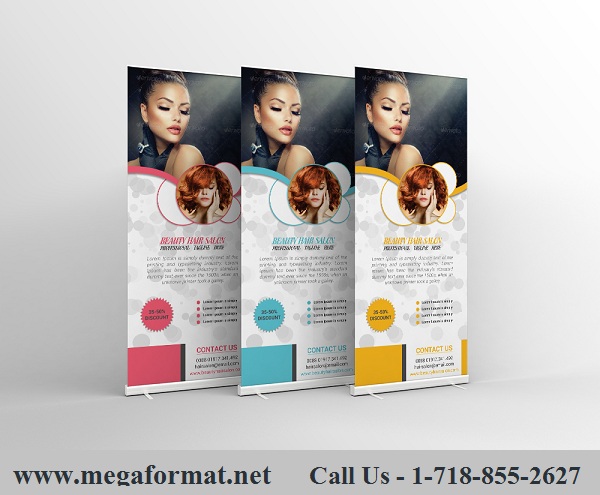 Easy Packing & Storage
Putting away your pull up stand for your next event is easy and compact, pull down the banner roll it in the base, remember to put the telescoping pole in the slot in the back of the stand, pack it in the soft case included and you're ready to go.
This pull up banner stand became very popular to use at trade shows, events, indoor and outdoor advertising because it's portability and easy setup, you put it just like anywhere it takes up no space, this banner stand is also known as retractable banner stand, roll up banner and pop out banner stand, you can see this roll out banner at all events big or small the pop up banner is used as an excellent marketing tool.
Benefits
Easy to use – unlike most advertising options, pull-up banners are very easy to assemble, disassemble and store away until the next use.
They are durable – come sun, wind or rain, these banners will last throughout the whole day and stay intact due to the quality material used to make them.
Easily transported – due to the light weight and compact design, transporting these banners to your designated location is very convenient.
Brand awareness – no matter where you are planning on putting these to use, the message you are trying to get across will always be with you and eye-catching to those around it.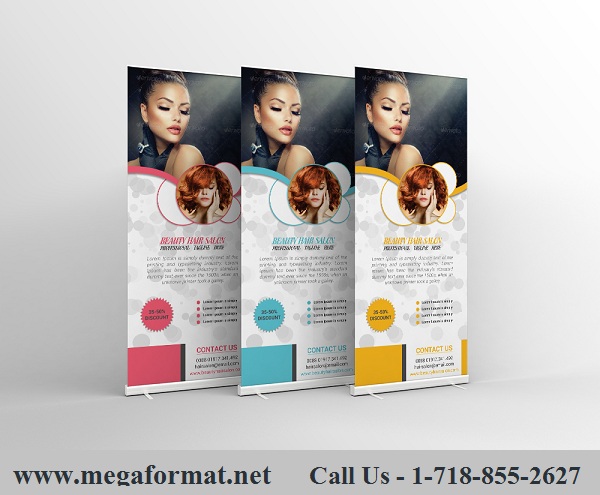 Uses
Local markets – make your stall stand out between all the others by advertising your products with a pull-up banner if you are looking to attract more people.
Product launches – these are great to use for advertising the main aspects of a product for the people who are attending the celebration.
In-store promotions – if your shop is located in a shopping mall and you have a special on at the moment, it is very easy to catch the attention of by-passers by putting a pull-up banner outside your store door.
Sporting events – if you are sponsoring a sport/school event having a pull-up banner can help you gain a lot of brand awareness with the people attending the event.
At Mega Format Printing, we can help you create a branded marketing message, organise an event, or market to your business goals in any specific situation. Our commitment to quality and service for all of your printing needs are what makes us stand out from our competitors.
Questions? Give us a call today at 1-718-855-2627 we can help!
For local NY customers, we also offer the option for free store pickup.