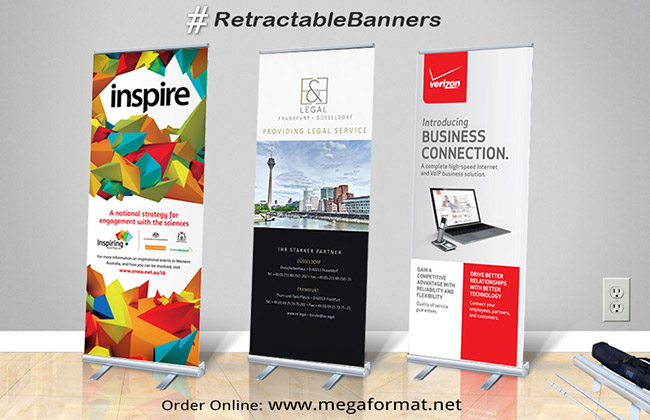 The retractable banner stand is the easiest and convenient method for sharing your message or for advertising. In trade shows retractable banner stands are one of the most popular displays, they are widely used in retail store, sporting events, churches, airports, shopping malls and exhibits.
Retractable banners are also known as roll up banner stands or pull up banners for trade shows, it got its name because of a mechanism that retracts the banner into the base when it's not in use. Generally, it's a spring loaded mechanism but some of our high-end retractable banner stands use a different system that has no springs at all. In every case, you simply pull up the retractable banner like you would pull down a window shade, and attach the top rail to the top of a support pole. Except for extremely wide models that require two support poles, a single person can easily set up a retractable banner stand you lift the top rail off the support pole, carefully lower the banner back into the base, and put the pole and base into the travel bag.
When looking for trade show banner stands, this is especially important because, with a wide range of sizes, there is sure to be a model to fit any space. Choose a size below: 24″, 33.5″ & 47″  W  •  78″ or 90″ H. These are popular for having more room on the banner to help generate a greater impact, while still remaining easy to transport and inexpensive to ship. Roll up banner stand that makes great backdrops and can function as a back wall for a trade show booth all by themselves. This retractable banner stand became very popular to use at trade shows because it's portability and easy setup, you put it just like anywhere it takes up no space, this banner stand is also known as pull up banners for trade shows, roll up banner and pop up banners stand, you can see this roll out banner at all events big or small the pop up banner is used as an excellent marketing tool.
In case you need your artwork printed on both sides, you can also order Double Sided Retractable Banner Stand.
With this incredible range of sizes and styles, it's no wonder retractable banner stands are used to satisfy so many different types of display needs. We have models to fit any budget as well and try to have a range of sizes in each quality and price group so that we can provide solutions to the largest number of customers possible.
Why Mega Format??
With over 12 years of experience in big canvas prints. We have hundreds of satisfied and happy customers across the US and have retained them for years, so we are NOT here for this ONE order, but earn your trust and have your business for years to come. We make sure that you get:
High-quality prints which will not FADE and last for years.
Offer custom size canvas printing, to meet your requirements.
100% satisfaction guarantee or money back.
Meet your deadlines – ALWAYS.
Professional & Friendly Service.
High quality at a fair price.
Client satisfaction with high-quality deliverable is the prime focus.
Order your printing requirements through our online portal – https://megaformat.net upload your custom artwork and get the printed product at your doorstep across the USA, Free store pickup is also available for local NY customers. Order online or call us for assistance: 718-855-2627. Mail us for a custom quote at sales@megaformat.net.