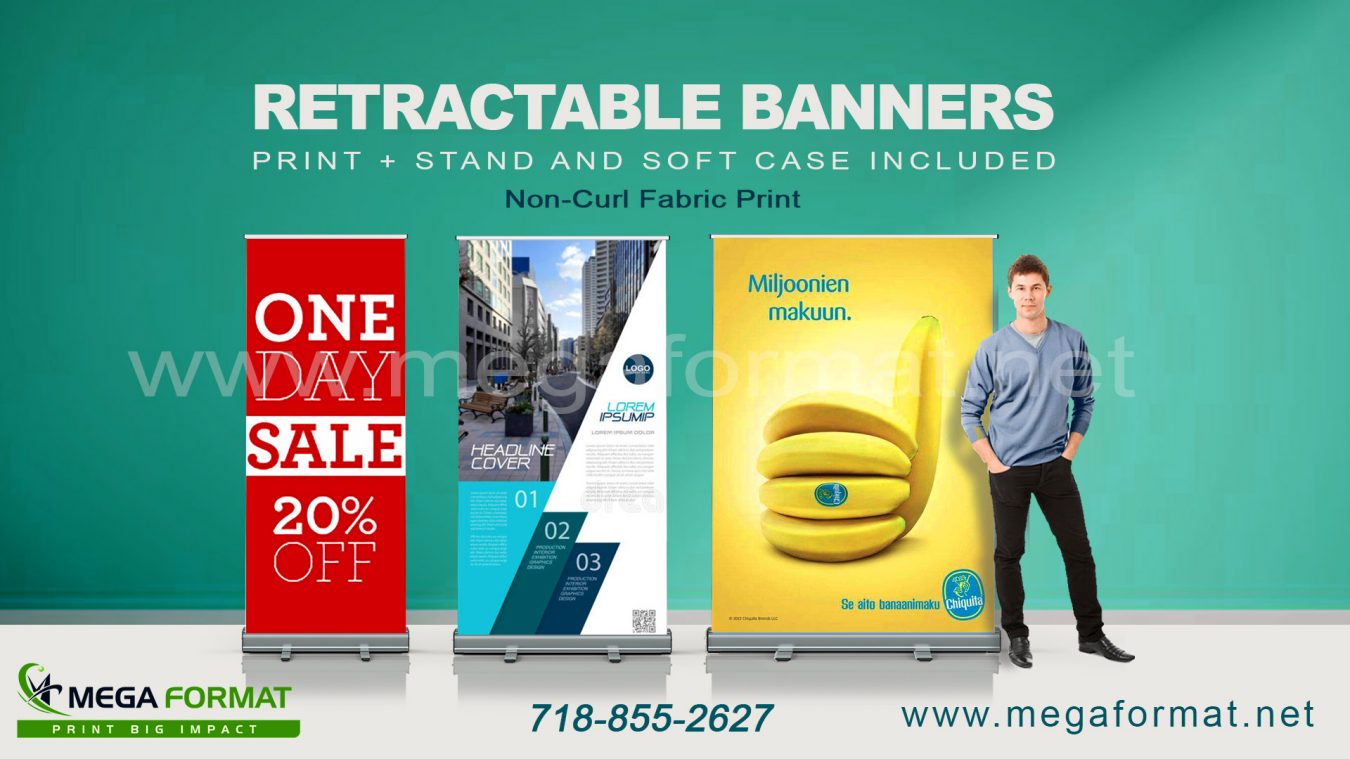 Retractable banners stand have become one of the most popular trade show displays option in the market today. Due to their portability and economical price point, may companies are downsizing from large custom exhibits to 10×10 booth spaces that consist of 3 or 4 banner stands. Retractable banner stands are a convenient and effective way to showcase your business, product or service at any event, exhibit or trade show. Also known as a pop-up banner, they are light-weight and printed on high-quality, durable 10 mil vinyl. The retractable banner stand is light-weight, portable and they're easy to assemble and take down in minutes. Conveniently packed in a small bag. Select from a variety of retractable banner stands sizes to meet your promotional needs.
This lightweight retractable banner stand will help you achieve you're marketing goals by dispalying your message in big, the print rolls into the base and it's a free standing banner, great for trade shows, it takes up no space from your booth and big enough to attract traffic at your event, also convenience for presentations, conferences and retail stores. Customers say, they use it over and over many times!
Details
Includes: Banner stand, Printed graphics, Soft carrying case.
Base Size: 4″ D x 4″ H x 35″ W.
Shipping Size: 6″ x 6″ x 36″
Print: Printed with HP Latex 360 will not fade.
Material: Printed on high quality 11 oz. polyester non-curl fabric.
Weight: 7 lb.
Color: Silver
Using Your Stand
Use this roll up banner stand to advertise your company brand products at trade shows, business conferences and events or for personal use such as weddings, family gatherings and partys
Easy Setup
Sets up in a minute, put in the telescoping pole, pull out the banner hook it up on top and your message is displayed.
Quality Print
Printed on high quality fabric which stays flat and never curls.
Case Included
Soft nylon case included to protect your stand and for easy transportation and storage.
Easy Packing & Storage
Putting away your pull up stand for your next event is easy and compact, pull down the banner roll it in the base, remeber to put the telescoping pole in the slot in the back of the stand, pack it in the soft case included and you're ready to go.
This retractable banner stand became very popular to use at trade shows because it's portability and easy setup, you put it just like anywhere it takes up no space, this banner stand is also know as pull out banner stand, roll up banner and pop out banner stand, you can see this roll out banner at all events big or small the pop up banner is used as a excellent marketing tool.
Through Mega Format order a custom retractable banner stand for your business, trade show or event. These professional banner stands with high quality full color print are available in stay-flat vinyl or dye sublimated polyester fabric.
At Mega Format Printing, we can help you create a branded marketing message, organize an event, or market to your business goals in any specific situation. Our commitment to quality and service for all of your printing needs are what makes us stand out from our competitors.
Questions? Give us a call today at 1-718-855-2627 we can help!
For local NY customers, we also offer the option for free store pickup.
Why Mega Format??
With over 12 years of experience in big canvas prints. We have hundreds of satisfied and happy customers across the US and have retained them for years, so we are NOT here for this ONE order, but earn your trust and have your business for years to come. We make sure that you get:
High-quality prints which will not FADE and last for years.
Offer custom size canvas printing, to meet your requirements.
100% satisfaction guarantee or money back.
Meet your deadlines – ALWAYS.
Professional & Friendly Service.
High quality at a fair price.
Client satisfaction with high-quality deliverable is the prime focus.