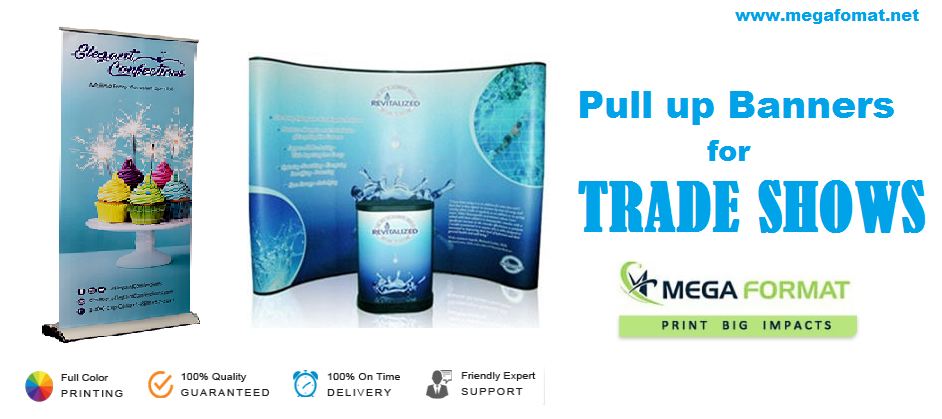 For some people, they are banner stands and to others, they are
pull-up banners
but they all do the same thing: focus the attention of passers-by on your brand, your business, and your products. This is why they are so important to any marketing strategy. If you think that a pull-up banner will help your business, there are three major types that you should consider
Portable banner stands
, pop up stands, pop up displays and roller banners are a great source of cheap and effective advertising for exhibitions, retail or shop displays, trade shows, conferences, presentations or advertising events. Pull up banners, or retractable banners are popular as exhibition banners and retail banner displays. They pop-up in just seconds giving you a large advertising banner display at a tiny price and the flexibility to easily move the pull up display around your premises. You can take it down in seconds and simply re-erect it at the next exhibition or retail location. Slimline Warehouse stocks a huge range of pull up banners and portable banner displays so there's bound to be one to suit you needs and budget.
Retractable banners and roll up banners have traditionally been an exhibition display product, but are now being used more and more in retail display applications due to the high impact of the large banner surface and the fact that it is so easy to position pull up banners in different areas of your shop, or to simply retract them into the base for convenient storage that also ensure the banner is not damaged.
Our premium pull up banner model is a roll up banner display which features a removable banner cartridge that enables you to print and install your own banners to the banner stands base. This high end banner stand also features modern design and styling on the base of the unit and truly is the retractable banner display of choice for high end establishments, or businesses who intend on using their pull up banner for years to come.
Retractable Banner Stands are made from lightweight but durable aluminium and don't have those huge, non-fordable bases. Banner Stands only take mere moments to setup or take down. Use for trade shows, events, point-of-sale displays, or anything else you need quick and easy signage for. We can print any design with our in-house wide format print facilities.
Pull up banners or roll up banners are also a favourite for businesses with booths at trade shows and exhibition displays. This is because they are a form of portable advertising that can be easily carried to the conference or exhibition then erected in just seconds to provide extra impact to any trade show booth. A large pop up banner can also create a strong backdrop for an exhibition display stand.
At Mega Format Printing, we can help you create a branded marketing message, organise an event, or market to your business goals in any specific situation. Our commitment to quality and service for all of your printing needs are what makes us stand out from our competitors.
Questions? Give us a call today at 1-718-855-2627 we can help!
For local NY customers, we also offer the option for free store pickup.
Why Mega Format??
With over 12 years of experience in big canvas prints. We have hundreds of satisfied and happy customers across the US and have retained them for years, so we are NOT here for this ONE order, but earn your trust and have your business for years to come. We make sure that you get:
High-quality prints which will not FADE and last for years.
Offer custom size canvas printing, to meet your requirements.
100% satisfaction guarantee or money back.
Meet your deadlines – ALWAYS.
Professional & Friendly Service.
High quality at a fair price.
Client satisfaction with high-quality deliverable is the prime focus.