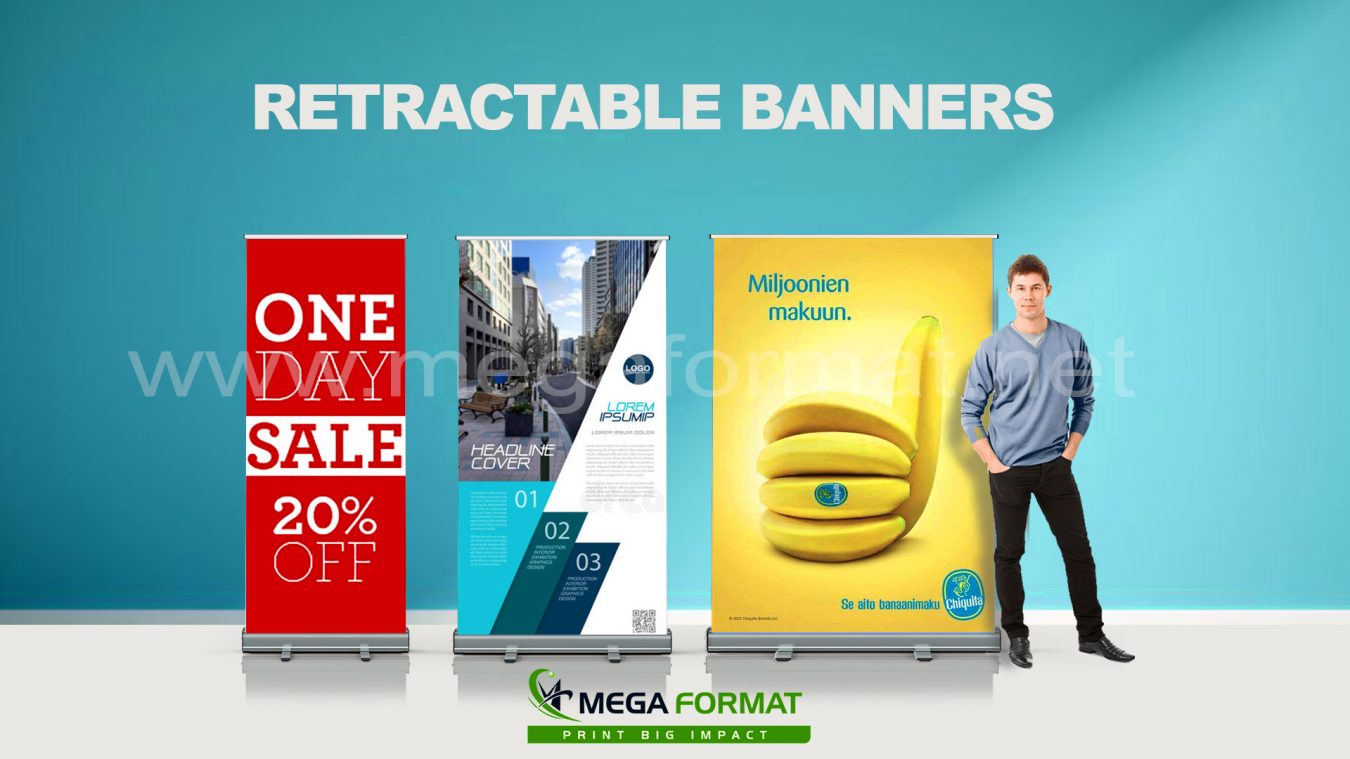 Retractable banner stands is an easy way to add custom promotional signage for any Trade Show Display or for any advertising space. It is the most popular banner stand among savvy shop owners and experienced exhibitors. The slim and sleek silhouette of the aluminium base unit is elegant though understated and draws attention to your graphic print. To ensure the most vivid graphics, we print your artwork on your choice of either fabric or vinyl. Your presentation reflects your image as a brand.
This lightweight retractable banner stand will help you achieve you're marketing goals by displaying your message in big, the print rolls into the base and it's a free-standing banner, great for trade shows, it takes up no space from your booth and big enough to attract traffic at your event, also convenience for presentations, conferences, and retail stores. This retractable banner stand became very popular to use at trade shows because it's portability and easy setup, you put it just like anywhere it takes up no space, this banner stand is also known as pull out banner stand, roll up banner and pop out banner stand, you can see this roll out banner at all events big or small the pop up banner is used as a excellent marketing tool.
Retractable Banner Stand sets up in seconds, and is known as one of the most dependable roll-up unit in the advertising industry. Our most reliable and refined banner stand. The hardware comes in Silver stand, choose a size: 24″, 33.5″ & 47" W • 78″ or 90″ H. This retractable banner stand truly proves its value with its long-lasting durability. The aluminium base unit is lightweight for optimal portability yet is strong enough to protect your print from dust, moisture and accidental scuffs. The Retractable Banner Stand also includes a padded carrying case to further protect your display during transport and storage.
Check out our popular pull up displays that feature a unique retractable stand to allow you to pull up your banner from the base and feature your printed message in it. Choose from our Premium and Budget Banner Stands, available in a variety of sizes, to find the marketing display that is just right for your company, venue and budget.
Need a banner stand in a hurry for that fast-approaching conference or community function? With Popup banner's speedy turnaround time of 48 hours after proof approval, we can print, assemble and ship your display just in time for the big showcase.
Order your printing requirements through our online portal – https://megaformat.net upload your custom artwork and get printed product at your door step across USA, Free store pickup is also available for local NY customers. Order online or call us for assistance: 718-855-2627. Mail us for custom quote at sales@megaformat.net.