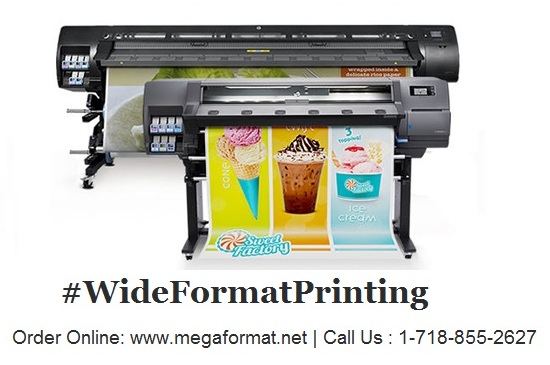 Wide-format printing is also known as Large Format Printing. Wide format printing is best suited for advertising local business, retail locations, corporate offices, and trade show displays. It covers everything from indoor and outdoor graphics to point-of-sale and digital die-cut displays. With a print area of up to 10' high and 100′ long, wide format printing can be applied to just about anything.
It is a method that allows businesses to print media in bigger forms, including banners and posters. Wide format printing is one of the printing industry's largest areas of growth and there are many good reasons for this development. One of the biggest reasons for progress in wide format printing is that the technology behind it has improved greatly over the past decade. This has led to the wide format being increasingly considered to be a highly beneficial investment in advertising with a low initial cost and effective results. The decrease in the price of printing has led to increased accessibility. While this printing option may have originally only been considered by industrial workplaces, in recent times, it is being increasingly considered by many different industries.
Of course, it's not just printing businesses themselves that have brought about the surge in popularity of wide format printing. With the ubiquity of advertising and digital marketing, customers are looking for innovative, eye-catching ways to promote their brands, and the best way to do that is to invest in wide format printed products. Banners, vehicle wraps and point of purchase displays are all popular items for wide format printers.
The new opportunities that a wide format printer can offer and how it could fit into your workplace, as the perfect business investment:
Improved print clarity
This means that hundreds of miniature guns fire dots of ink onto the material that you are printing onto, which make up the whole picture This precision ejection of ink droplets means that it is possible to produce amazing image clarity, even for larger items like banners and posters. This method of printing also allows the ink to bleed slightly, meaning that it is possible to achieve gradients which can add to the effect of an overall more aesthetically pleasing picture.
Speed
While desktop Epson printers are perfect for printing off A4 pages at high speeds and can fit seamlessly into office life, they may not be the best choice for producing larger media items. When printing posters, using a desktop device you may have to insert sheet after sheet of paper in order to produce the whole picture. A wide format printer can simply take a larger sheet and print the image in one go. This also means that the produced results will be much better, as there will be no visible gaps on the page.
Accurate colors
One of the greatest benefits to large format printing is the fact that it allows for much more accurate color reproduction. A wide format color printer usually uses more individual ink cartridges than the traditional cyan, magenta, yellow and key (black) color, which means that it is possible to create different shades and tones. In turn, the printed image can be of a much higher quality, making it the perfect option for those who wish to display a picture in high definition.
Durability
Most wide format devices are designed for much harder wear, due to the nature of their printing. An example of this is that Epson wide format printers feature permanent print heads, which don't need costly replacement. In addition to this, they have the option to use water resistant and durable ink.
New marketing options
Marketing and advertising specialists can harness the power of a wide format printer to enhance brand awareness and boost visibility for a product or service within a specific industry. Using large print can give the upper edge over competitors, who may be simply focusing on digital marketing and leaving a gap in their reach. Eye-catching posters and banners can help to increase brand awareness in your local area and bring in new clients or customers this way.
Simple to use
While you may think that wide format printing is a difficult technique to grasp, this is not the case. These devices are user-friendly and responsive to customer needs. As they keep the basic technology of an inkjet printer, they are simply a small change from this device that can lead to big results. As you can see, wide format printers are an excellent choice for any workplace and can be put to use instantly to help branch out your creativity and put ideas into action.
So, if you need a printer that is user-friendly and responsive to customer needs, in terms of demand for technology, then consider a wide format printer for your business.
Key Takeaways
For best results, provide your printer with vector images and native art files, so they are able to easily resize your images to fit even the largest of print formats.
Wide format printing is great for reinforcing your brand in a visible and memorable way.
Popular applications for wide format printing include retail locations, corporate offices, and trade show displays.
Mega Format provides high quality Large Format Printing and Trade Show Display. We are leading Custom Printing solutions provider in Brooklyn New York. From more than decade in large format printing business, serving small to large scale industries and corporations.
Order your printing requirements through our online portal – https://megaformat.net upload your custom artwork and get printed product at your door step across USA, Free store pickup is also available for local NY customers. Order online or call us for assistance: 718-855-2627. Mail us for custom quote at sales@megaformat.net.