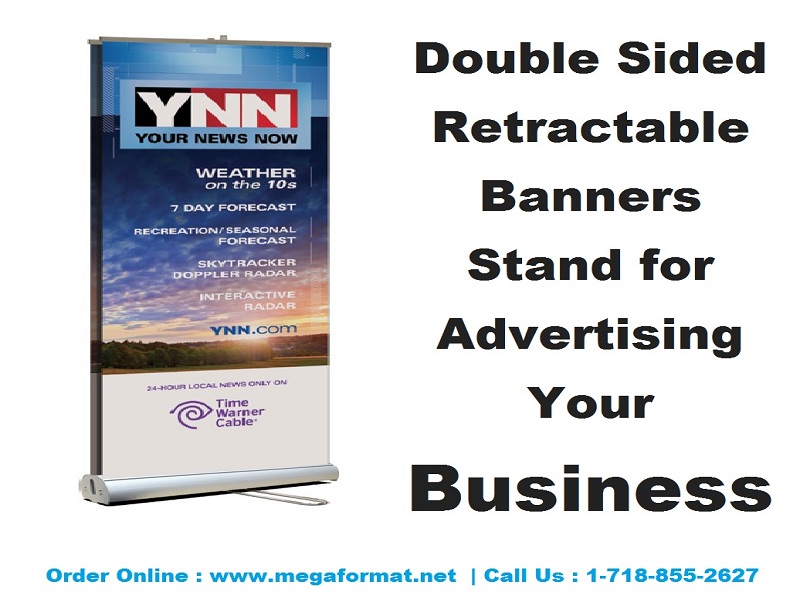 Display banners or exhibition banners are a great way to promote your business in busy environments where you can be viewed from any part of your premises. The double sided pull up banner range gives you the option to make an impressive advertisement by having a double sided display which works well in places such as trade shows, museums or exhibitions. When you order your display banner, you will be requested to submit your artwork which will be printed digitally on a banner to fit into the banner stand, giving you a neat and professional presentation.
As retractable banner double sided offer much greater exposure and set the perfect stage for attracting your customers from both opposite directions. Double sided pull up banner play great role in optimum positioning and attraction, which are very first step towards creating a sales funnel or opportunities at an exhibition.
These double sided display banners are a portable display making them useful for seasonal promotions. The banner stands give you the flexibility to display anywhere in your premises- quick and easy to set up, these exhibition banners will give you a double impact marketing display.
Many of our customers choose these double sided retractable banners when they are putting together an exhibition display or trade show booth as they offer maximum exposure in a portable display. They are the perfect exhibition display stand in that they can be easily carried by one person to the trade exhibition and they "pop up" in just seconds. They can then be placed on the outer edge of the exhibit booth to attract the attention from fair-goers passing in either direction.
Double-Sided Retractable Banner Stands are the ultimate way to promote your product, business, or personal message. This simplistic and elegantly designed banner stand is finished in anodized silver and comes with a padded carry bag, heavy duty molded endplates, and dual retractor mechanisms that allow you to display two graphics back to back.
Advantage of using double sided retractable banners and buying from megaformat.net are:
Low Cost:they are relatively low cost, as compared to other form advertising displays.
Visibility:By using double sided pull up banners or double sided retractable banners (however you may call it, but it's the same thing) at trade shows and exhibitions, a two way display of your message or custom artwork will attract the potential customers to your booth or special event. And they are big enough to advertise your message clearly and professionally. Popular sizes we carry by width are 24″, 33.5″ & 47″, and based on how BIG you want your display to be, you can order them in 78″ (6.5 feet) or 90″(7.5 feet) Height.
Portability: Since they are light weighted, the transport cost is next to nothing. These double sided pull up banner collapse into its own base and can be easily packed and carried in the carry bag which we include with your order and can be taken from one event to another inside your car, overhead storage compartment on planes or trains or at the back of your truck.
Durability:The quality fabric we use (11 mil fabric), its smooth finish on a bright-white matte base offers exceptional image quality, the fabric stays flat and won't curl EVER!, That is what makes our double sided retractable banners durable for multiple usage, so you spend once and re-use it over and over again.
Print Quality: With years of experience in printing banners and working with thousands of customers, we understand how important your event is to you. Therefore we guarantee that we give you the best printing quality and material, ensuring 100% satisfaction.  We use best in class high resolution printer, quality fabric and our experienced technicians, ensures that you're custom artwork is printed to its perfection, hence ensuring that you are not let down at your event.
Mega Format provides high quality large format printing services for Large Format Printing and Trade Show Display. We are leading Digital Printing solution provider in Brooklyn New York. From more than decade in large format printing business, serving small to large scale industries and corporations. Our printing creative's are of high quality and at affordable price, which helps to enhance your business brand. Our top priority is quality and service, with the latest technology and creative in house team we produce the most professional prints in the large format market today. We provides top quality large format printing for trade and wholesale, we serve sign shops, printer brokers and event marketing coordinators with many years of experience, our top priority is quality and service, and with the latest technology and creative in house team we produce the most professional prints in the large format market.
We print on a verity of materials, large posters laminated and mounted custom large banners for your trade show or special event, art posters or oversize photos, big advertising point of purchase displays, window graphics, contact us for your large format quote sales@megaformat.net.
Order your printing requirements through our online portal – https://megaformat.net upload your custom artwork and get printed product at your door step across USA, Free store pickup is also available for local NY customers. Order online or call us for assistance: 718-855-2627. Mail us for custom quote at sales@megaformat.net.