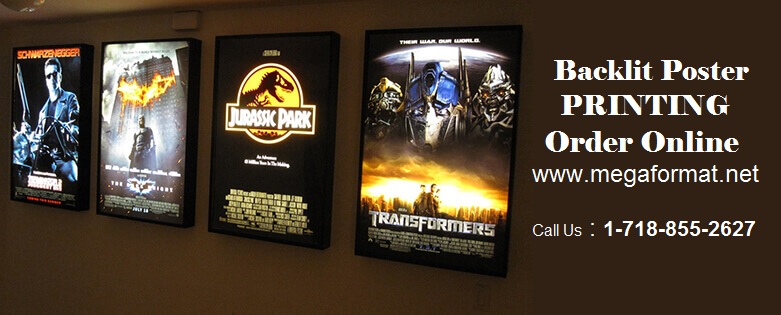 Backlit poster printing is a great way to increase impact of your advertising campaign. Backlit poster printing will showcase your company brand day and night due to the special back lit material that allows the custom banners to shine through a light source.
Backlit poster is the perfect solution for lighting your message in the dark or in spaces where the light is not very powerful. The backlit advertising banner has a very high impact on people because the color is extremely vivid and tends to pop more than a regular visible sign.
It is used for numerous informational and advertising purposes. The backlit film printing makes dynamic displays. It is a popular way to display images, graphics and messages. These signs use a light box to illuminate special posters or film, making the display attractive and special. These are designed to showcase your idea, image or message, it is ideal for exhibitions, tradeshows and conventions.
Backlit films are perfect for long term use, advertisement, posters, window displays, for either indoor or outdoor, counter displays and trade shows.
These displays are eye catchy, made of lightweight materials, easy to remove, weather proof, durable and suitable for different kind of solvent inks. It is designed to increase sales of your business. They can be produced for shops, clubs or restaurants.
Mega Format provides high quality large format printing services for Large Format Printing and Trade Show Display. We are leading Digital Printing solution provider in Brooklyn New York. From more than decade in large format printing business, serving small to large scale industries and corporations. Our printing creative's are of high quality and at affordable price, which helps to enhance your business brand. Our top priority is quality and service, with the latest technology and creative in house team we produce the most professional prints in the large format market today. We provides top quality large format printing for trade and wholesale, we serve sign shops, printer brokers and event marketing coordinators with many years of experience, our top priority is quality and service, and with the latest technology and creative in house team we produce the most professional prints in the large format market.
We print on a verity of materials, large posters laminated and mounted custom large banners for your trade show or special event, art posters or oversize photos, big advertising point of purchase displays, window graphics, contact us for your large format quote sales@megaformat.net.
Order your printing requirements through our online portal – https://megaformat.net upload your custom artwork and get printed product at your door step across USA, Free store pickup is also available for local NY customers. Order online or call us for assistance: 718-855-2627. Mail us for custom quote at sales@megaformat.net.