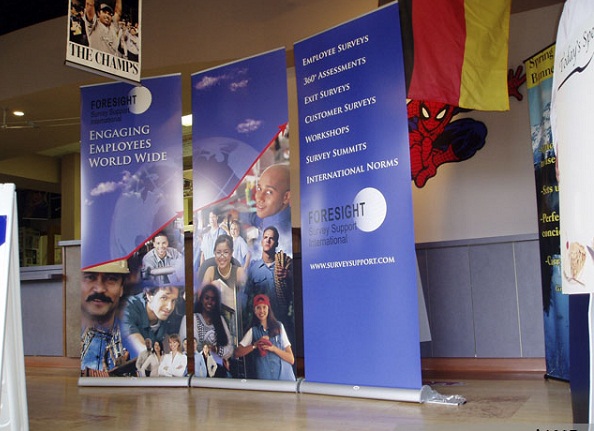 Looking for advertising your new promotion or planning to start new business; and confused on selecting right advertising method? One best mode is advertising through Double Sided Pull Up Banner Stands.
Here are the things that one should understand and know about Pull up banners, before buying them:
They are perfect for displaying graphics and creating WOW effect and impact; that will attract your prospective client's attention.
They are available in a range of sizes and materials. The height of the banner stands can be adjusted and they arrive with a carry bag for convenience.
They are best when it requires a quick display for they pop up very easily in a matter of seconds.
Best suited to volume point – of – sale venues because of their compact size and lightweight; they can be carried anywhere by hand and there are no tools required as the graphics roll up to the base and can be simply pulled up when required for use.
Double sided pull up banner contain display on both sides. As a result, people can view the message from both the sides. They can easily have access to an eye full of content from either side. Such simultaneous display of two different banners can double up chances of a marketing campaign.
Many times, conventional pull-up banners are not able to adhere to the requirements of the organizations. So, in order to make the products noticed to maximum numbers of prospects, something special is required that will attract the attention of maximum prospects easily. Here comes the need of double sided pull up banner stands.
Cost effective and attractive option, this marketing method has the capacity to spread your message to a wide range of potential consumers who happen to pass by your stand.
They are single, tall and narrow graphic banner, supported by an aluminum pole that is collapsible, i.e. both the pole and graphic banner are contained within the same base unit. This makes them simple to carry, set up and take down.
Double sided pull up banners is perfect in places where your display has to be seen from both sides.
The standard graphic height of these banners is 2 meters and also it comes in various widths which will maximize your visibility.
Double sided pull up banners is one of the most powerful tools to attract the attention of passersby.
Provide striking visual impact
You can feature a different design both on front and back
Durable and stylish
While selecting double sided pull up banners, 4 key things must be considered:
1. Weight: It is vital to consider the size and weight before buying the pull-up banners. Widths ranging from 700 – 850 mm are more common nowadays as they are easy and convenient to carry and large enough to catch the eye of the audience in the exhibition.
2. Appearance: Next important aspect is its appearance. Your banner has to be unique, must contain an eye catchy marketing message and attractive enough to stand out from the crowd. As people only read –1/3 of the banner; keep your messages short using few words along with a couple of suggestive images. It should be simple and to the point, as no one at the trade show or exhibition will have time and will be interested in reading lengthy messages.
3. Function: In case you want to promote your brand, go for a simple banner. However, if you want to first and lasting impression among your prospects, go with a solution that has good support for printed banners
4. Quality: The last thing that has to be kept in mind before buying is the quality of the material. A quality banner with double surface and scratch resistance is best to go for. If you go for low quality beware of your customers noticing it and develop bias opinion that your business also offers low-quality product, so be smart and opt for best quality pull up banners for your shows and exhibitions.