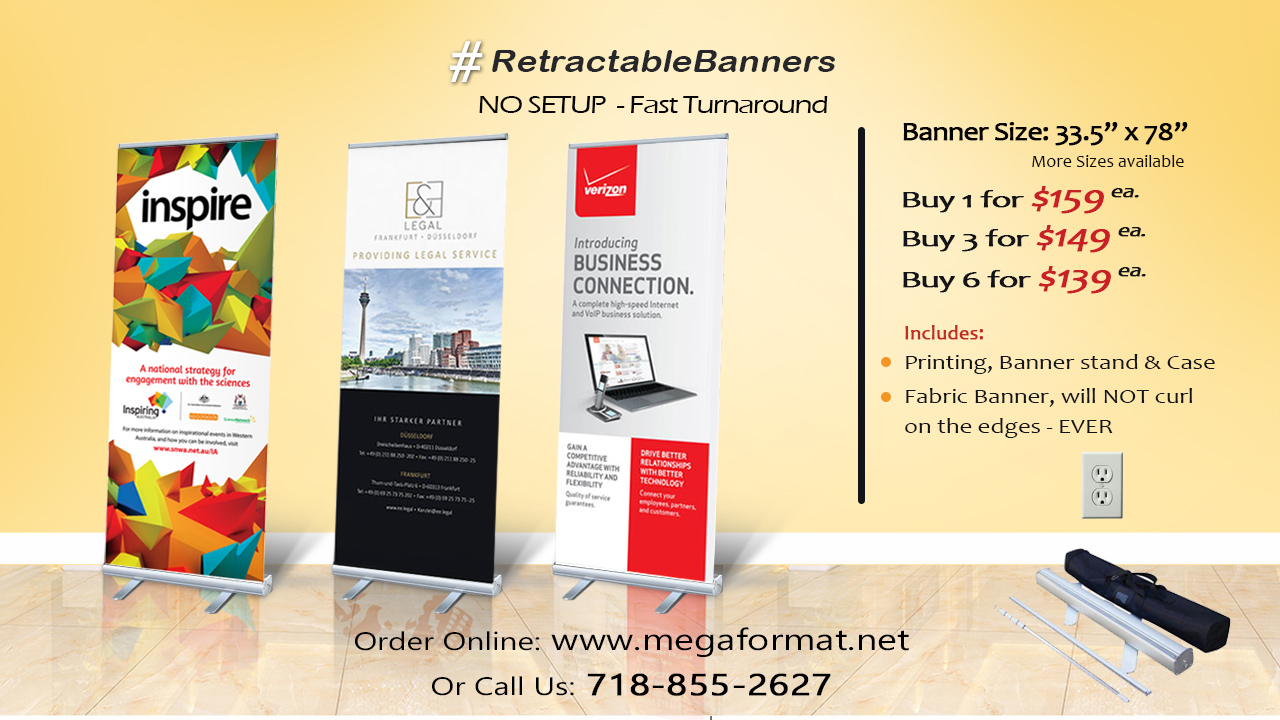 You might have been seen Retractable Banners at different places, at trade show exhibition, at stores front, at offices entrance or at different places. A retractable banner is a great sign solution to get your message to people that might be passing by. A banner can help people navigate people where they need to go. The banner can help you advertise a new product, or showcase a new event coming up in the future. Retractable banners are almost 80″ tall they stand out in your office.
This lightweight retractable banner stand will help you achieve you're marketing goals by displaying your message in big, the print rolls into the base and it's a free standing banner, great for trade shows, it takes up no space from your booth and big enough to attract traffic at your event, also convenience for presentations, conferences and retail stores. Customers say, they use it over and over many times!
You could use a retractable banner if you are in the following profession:
Physician
Dentist
Real Estate Agent
Office Manager
Event Planner
Retail Store Owner
Mega Format a leading leader in Large Format Printing over 12 years of experience, we assure to our clients that their graphics will look fantastic which helps them to boost their business. Our large format printing services encompass a variety of printing services with a finishing techniques. We can produce graphics of all sizes and shapes appropriate for any advertising campaign, marketing strategy, or special event. We have complete in-house mounting and lamination capabilities as well for putting the finishing touches on your project.
Our standard retractable banners are lightweight, durable, and portable. Available in a premium high-gloss poly film, they add sharp color clarity and contrast to all your banner designs. They are also small enough to fit in any car trunk and are perfect for use in point-of-purchase promotions, product displays, sales demonstrations, trade show booths and so much more! Banner displays are easy to transport and easy to put up. They provide a fantastically quick and effective solution for the business person on the go!
We print on a verity of materials, large posters laminated and mounted custom large banners for your trade show or special event, art posters or oversize photos, big advertising point of purchase displays, window graphics, contact us for your large format quote sales@megaformat.net.
Order your printing requirements through our online portal – https://megaformat.net upload your custom artwork and get printed product at your door step across USA, Free store pickup is also available for local NY customers. Order online or call us for assistance: 718-855-2627. Mail us for custom quote at sales@megaformat.net.
We Ship Across USA
We have UPS API integrated into our system, with several shipping options. Simply enter the state, city and zip code to get shipping rates for different options, select the one you wish to choose and check out.         
For local NY customers, we also offer the option for free store pickup.
Why Mega Format??
With over 12 years of experience in big canvas prints. We have hundreds of satisfied and happy customers across the US and have retained them for years, so we are NOT here for this ONE order, but earn your trust and have your business for years to come. We make sure that you get:
High-quality prints which will not FADE and last for years
Offer custom size canvas printing, to meet your requirements
100% satisfaction guarantee or money back  
Meet your deadlines – ALWAYS
Professional & Friendly Service
High quality at a fair price
Client satisfaction with high-quality deliverables is the prime focus of Mega Format team. Whether, you are looking for large canvas prints or custom sizes we provide it all, ensuring best services at our end.