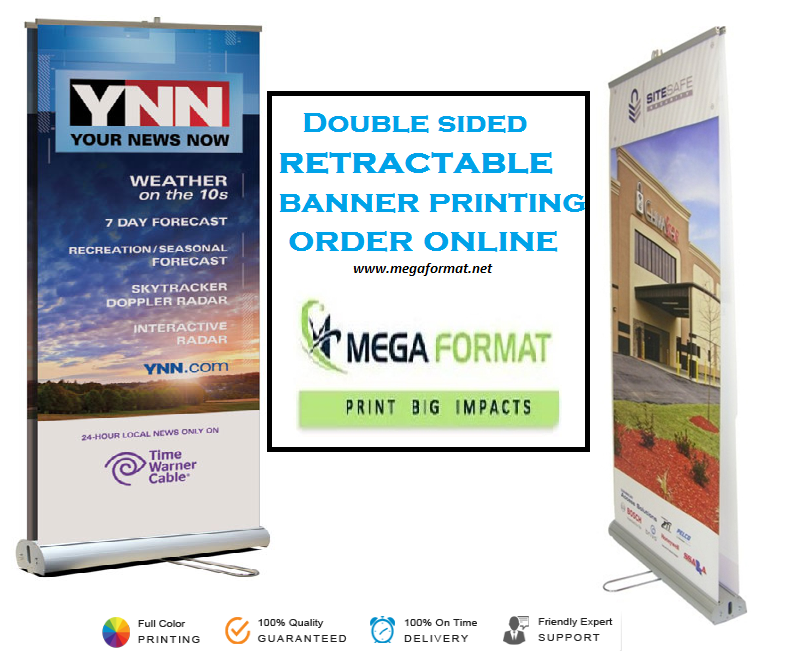 Everyone wants their business to stand out. Custom double sided retractable banner is a powerful method of helping customers notice your business, which can increase traffic and overall sales. A Double Sided Retractable Banner Stand allows your message to be display from both sides which maximise your branding opportunities. You have large space for your brand or product display. Large space to put different messages on each side to increase your exposure and awareness. Double-sided retractable banners offer a cost-effective promotional solution that will draw traffic to your location. Double-Sided retractable banners will give you twice the bang for your buck and 360 degrees of visibility to display your company. With multiple options, Double Sided Banner Stands are perfect for trade show displays, events and retail use.
Quick and Easy Banner Stand for Trade Shows
Double Sided Imagine going to a show and you don't need to worry about decorating your booth! This double sided retractable banner stand will help you achieve you're marketing goals by attracting both sides of traffic, the print rolls into the base and it's a free standing banner, it takes up no space from your booth and big enough to attract traffic at your event, also convenience for presentations, conferences and retail stores.
Quality Fabric – Never Curls
The banner is printed on high quality 11 mil polyester fabric, its smooth finish on a bright-white matte base offers exceptional image quality, the fabric stays flat and won't curl ever, even for high volume usage. That is correct! You can use our banners multiple times.
Great for Traveling
Travelling to a trade show this is the right tool for quick and easy display, it sets up in a minute, and your message is displayed, the banner stand is compact packed in a black nylon case for easy traveling.
What is Retractable banner double sided?
Double sided retractable banners are one of the most popular forms of advertising, mostly used at exhibitions, trade shows, corporate or personal events and even at retail stores. Businesses or individuals use them as part of their event promotion strategy for many reasons – they are light weight and portable, easy and quick to setup, durable and reusable (only if printed on quality fabric). Retractable banner is available both as single sided or double sided. They are also well known as – pull up and roll up banners.
As retractable banner double sided offer much greater exposure and set the perfect stage for attracting your customers from both opposite directions. Double sided pull up banner play great role in optimum positioning and attraction, which are very first step towards creating a sales funnel or opportunities at an exhibition.
Advantage of using double sided retractable banners and buying from megaformat.net are:
Low Cost:they are relatively low cost, as compared to other form advertising displays.
Visibility:By using double sided pull up banners or double sided retractable banners (however you may call it, but it's the same thing) at trade shows and exhibitions, a two way display of your message or custom artwork will attract the potential customers to your booth or special event. And they are big enough to advertise your message clearly and professionally. Popular sizes we carry by width are 24″, 33.5″ & 47″, and based on how BIG you want your display to be, you can order them in 78″ (6.5 feet) or 90″(7.5 feet) Height.
Portability: Since they are light weighted, the transport cost is next to nothing. These double sided pull up banner collapse into its own base and can be easily packed and carried in the carry bag which we include with your order and can be taken from one event to another inside your car, overhead storage compartment on planes or trains or at the back of your truck.
Durability:The quality fabric we use (11 mil fabric), its smooth finish on a bright-white matte base offers exceptional image quality, the fabric stays flat and won't curl EVER!, That is what makes our double sided retractable banners durable for multiple usage, so you spend once and re-use it over and over again.
Print Quality: With years of experience in printing banners and working with thousands of customers, we understand how important your event is to you. Therefore we guarantee that we give you the best printing quality and material, ensuring 100% satisfaction. We use best in class high resolution printer, quality fabric and our experienced technicians, ensures that you're custom artwork is printed to its perfection, hence ensuring that you are not let down at your event.
Where all can you use double sided retractable banners?
The double sided retractable banners always catches the attention of the potential customer or by-passer, which a simple sign cannot do. Therefore they are also getting very popular for the following uses:
Business trade shows: These banners make a terrific addition to your stand in trade shows as they provide great focal point for all those who are attracted to your booth.
Retail Stores / restaurants / cafe: The double sided retractable banner are becoming very popular for promoting any new product launch, special offers or even a new menu. You can quickly display them in busy markets or malls and attract footfall to your stores or restaurants.
At your corporate or personal event:If you are hosting any corporate or personal event or work party, there is no better attraction than a double sided retractable banner. Put couple of banners at the entrance and exit of the event which will draw the invitees.
Conferences:In case you are planning to sponsor a conference, or you have people who will be speaking at multiple times throughout the conference, then it is vital to have a double sided pull up banner that gathers visibility for your company brand amongst the conference attendees.
Mega Format a leading leader in Large Format Printing over 12 years of experience, we assure to our clients that their graphics will look fantastic which helps them to boost their business. Our large format printing services encompass a variety of printing services with a finishing techniques. We can produce graphics of all sizes and shapes appropriate for any advertising campaign, marketing strategy, or special event. We have complete in-house mounting and lamination capabilities as well for putting the finishing touches on your project.
Our standard retractable banners are lightweight, durable, and portable. Available in a premium high-gloss poly film, they add sharp color clarity and contrast to all your banner designs. They are also small enough to fit in any car trunk and are perfect for use in point-of-purchase promotions, product displays, sales demonstrations, trade show booths and so much more! Banner displays are easy to transport and easy to put up. They provide a fantastically quick and effective solution for the business person on the go!
We print on a verity of materials, large posters laminated and mounted custom large banners for your trade show or special event, art posters or oversize photos, big advertising point of purchase displays, window graphics, contact us for your large format quote sales@megaformat.net .
Order your printing requirements through our online portal – https://megaformat.net upload your custom artwork and get printed product at your door step across USA, Free store pickup is also available for local NY customers. Order online or call us for assistance: 718-855-2627. Mail us for custom quote at sales@megaformat.net.
We Ship Across USA
We have UPS API integrated into our system, with several shipping options. Simply enter the state, city and zip code to get shipping rates for different options, select the one you wish to choose and check out.
For local NY customers, we also offer the option for free store pickup.
Why Mega Format??
With over 12 years of experience in big canvas prints. We have hundreds of satisfied and happy customers across the US and have retained them for years, so we are NOT here for this ONE order, but earn your trust and have your business for years to come. We make sure that you get:
High-quality prints which will not FADE and last for years
Offer custom size canvas printing, to meet your requirements
100% satisfaction guarantee or money back
Meet your deadlines – ALWAYS
Professional & Friendly Service
High quality at a fair price
Client satisfaction with high-quality deliverable is the prime focus