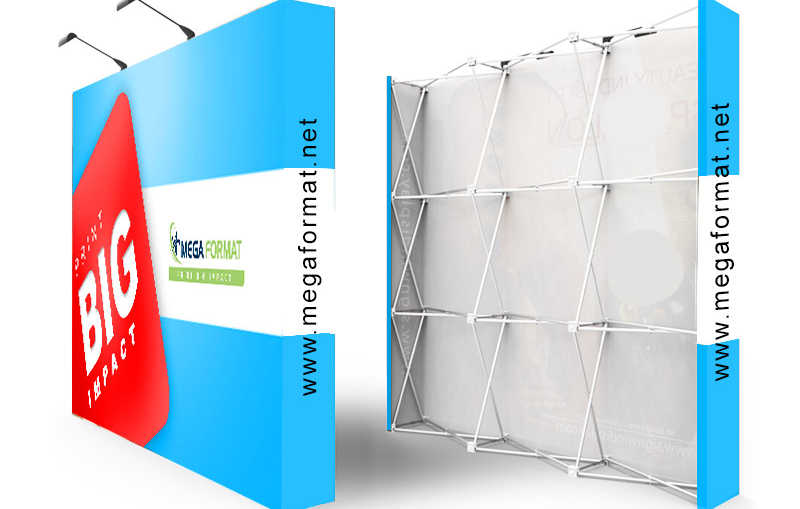 While the digital revolution is here to stay, it doesn't mean events such as in-person trade shows will end.
Yes, digital trade shows have been a game changer. However, letting buyers view your products in person and building face-to-face relationships is also extremely important.
Trade shows are known to be expensive. With both design and development, promotional items and giveaways, space rental, and registration fees, the only way to ensure you get a good return on your investment is to do it the right way from the beginning.
To help, here's our brief guide to types of trade show displays:
Table covers and runners
These are tabletop displays that use foldable frames to show graphics attached to the frame with Velcro, magnets, or metal fasteners. Typically, tabletops are 2 to 3 feet high. However, they usually become 5 feet tall once they're put on top of a table.
Banner stands
These are portable trade show display options that comprise a banner and a frame to hold it. Since they're cost-effective and portable, they're a popular choice for trade shows. Banner stands come in a variety of configurations, including the following:
Retractable banner stands
The banner neatly rolls into the base unit of the display. Thanks to this portability, it's easy to carry retractable banner stands around. Plus, the graphics aren't affected when the display is being transported or is in storage.
Double-sided banners
These are retractable banners with graphics on both sides.
Spring back banners
The banner unfolds from its case and can stand using a backing spring as the support.
L and X banner stands
Featuring an L and X backing, they're versatile and can be used in both indoor and outdoor settings.
Fabric banners and back walls
In such banner stands, the graphics slip into the aluminum stand of the display. You can use various graphics in the frame. These displays are ideal for both indoor and outdoor use.
Cassette-style banner stands
Extremely similar to retractable banner stands, these banner stands can swap out different graphic cassettes to display different messages.
Pop up displays
These are arguably the most common portable trade show displays. There's a collapsible frame that pops open. The graphics can be secured onto the frame using connectors.
Pop-up displays can be curved or flat and come in various shapes and sizes. You can also customize them by adding literature sleeves, lights, or other accessories. You can also convert the display into a counter by covering it with a fitted fabric graphic.
Whether it's a promotional message, a window display, or a ceiling-to-floor wall design, Mega Format has the product for every project. Explore their custom adhesive vinyl signs and large format adhesive vinyl printing in NYC today!
Give them a call now for more information!