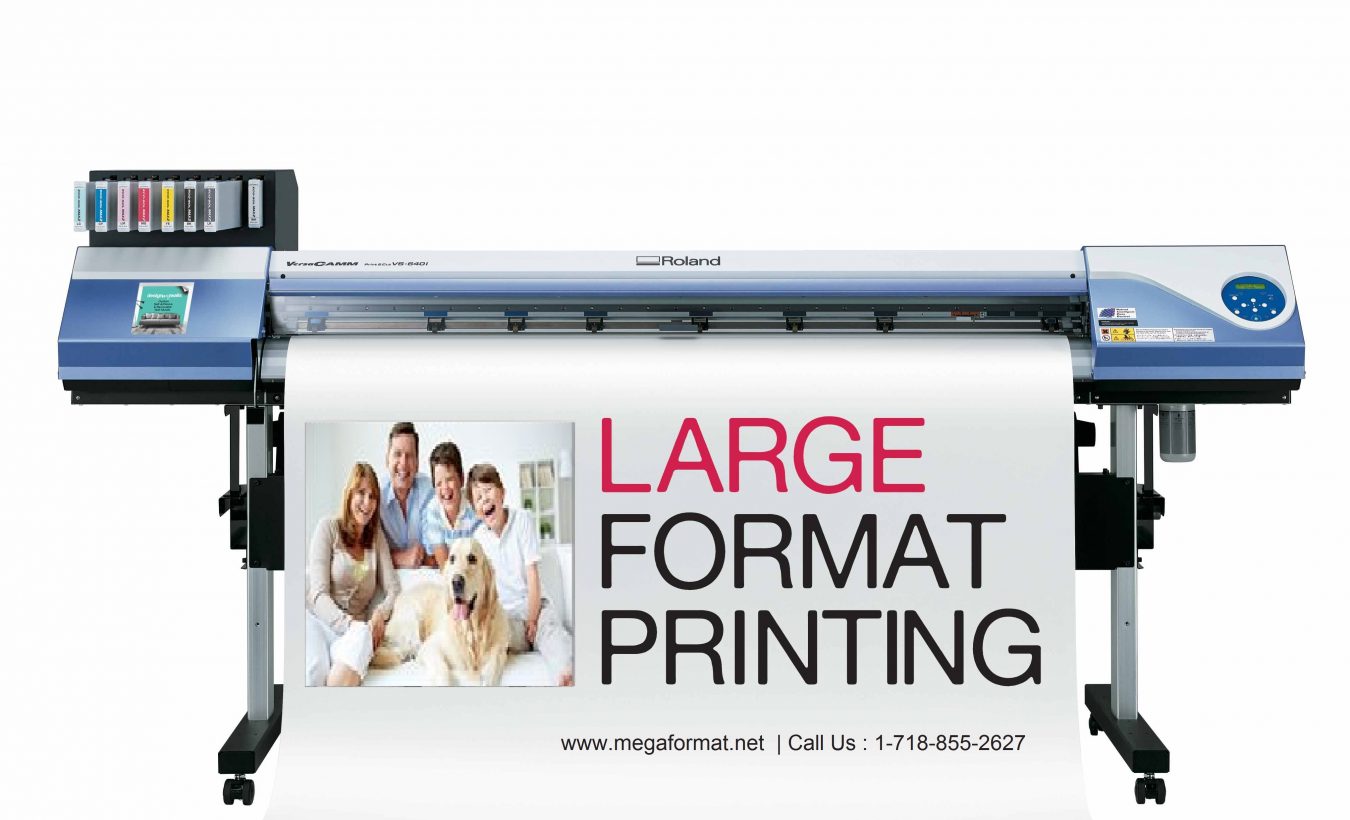 Large format printing is done on a massive large scale. Large format printing can be done for buses, cars, posters, and anything else that calls for a huge printed graphic. There are many benefits to large format. Large format printing is beneficial to a business owner or anybody looking to advertise. Large format printing commands attention and catches the eye, which makes it great for advertising. The massive variety of mediums you can apply it to is endless which allows you to advertise nearly anywhere with it.
Large format printers come in a variety of different sizes, with A3 being the most popular, and allow you to create bigger documents that don't compromise on color or quality. Let's take a look at some of the main benefits of large format printing and discuss why this printing method is right for you and your needs.
Advertising Potential
When it comes to drawing attention to you, bigger is always better. The bigger your message, slogan, advertising, banner, poster, or billboard, the more people are going to see it and talk about it. Talk spreads from person to person like wildfire, and before you know it, you have customers lining up to visit your business, or patrons forming a line around the block to get into your event. An effective large format print advertisement will catch the attention of onlookers who otherwise might have never noticed your business or product.  It also raises your brand recognition through the roof which is crucial to staying relevant.
Large Format Printing aren't the only way to get your message out with large format printing. You can also apply this highly effective marketing technique to making stickers, decals, pull-up banners, canvases, posters, signage, banners, and more. Pretty much anywhere you can think fit a giant image; large format printing can be utilized to create something specially designed to fit there. Eye level advertisements tend to get noticed the most and will increase your sales.  Large format printers are especially useful when designing graphics to be displayed at a bustling trade show or an industry exhibition. Portable banners are a great tool to use at these events as they can be designed with bright, noticeable colors and are totally flexible. You can move your ads with the flow of the crowd or wherever you need to.
Durability
With large format printing, you never have to worry about your product becoming weathered easily or damaged, as the products created by this method are specifically designed with durability and can go long stretches of time outside without sustaining almost any damage. The products created by large format printers can last weeks and even months at a time out in the open. This durability is especially useful for transit graphics as they tend to take the most wear and tear from debris flying up from underneath bus tires and people constantly touching them.
Speed
It's a well-known fact that digital printing is very fast, and most large format printers use the same production processes that digital printers use.  You can have whatever you want to be printed, produced in a short amount of time. With this rapid printing rate, you don't need to plan out design months in advance, and if something were to go wrong, you could easily adapt and improvise thanks to the speed of the print finishing equipment.
Mega Format provides high quality large format printing services for Large Format Printing and Trade Show Display. We are leading Digital Printing solution provider in Brooklyn New York. From more than decade in large format printing business, serving small to large scale industries and corporations. Our printing creative's are of high quality and at affordable price, which helps to enhance your business brand. Our top priority is quality and service, with the latest technology and creative in house team we produce the most professional prints in the large format market today. We provides top quality large format printing for trade and wholesale, we serve sign shops, printer brokers and event marketing coordinators with many years of experience, our top priority is quality and service, and with the latest technology and creative in house team we produce the most professional prints in the large format market.
We print on a verity of materials, large posters laminated and mounted custom large banners for your trade show or special event, art posters or oversize photos, big advertising point of purchase displays, window graphics, contact us for your large format quote sales@megaformat.net.
Order your printing requirements through our online portal – https://megaformat.net upload your custom artwork and get printed product at your door step across USA, Free store pickup is also available for local NY customers. Order online or call us for assistance: 718-855-2627. Mail us for custom quote at sales@megaformat.net.