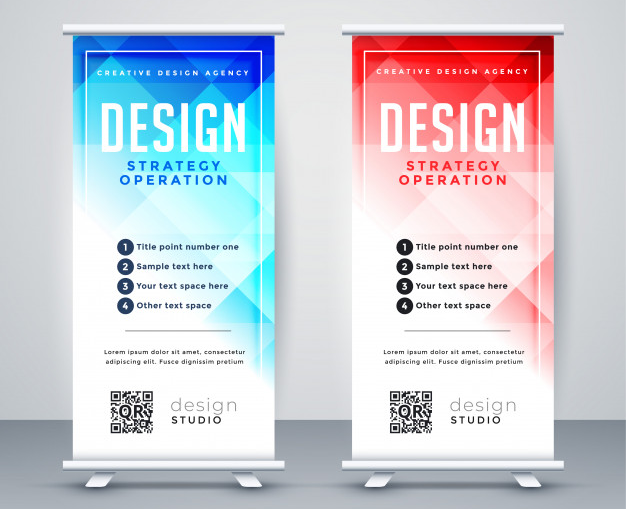 Creating the perfect design for your retractable banner is crucial to your marketing success. If you're looking to stand out among the crowd at your next tradeshow, you need a banner that is impossible for prospective clients to ignore and compels them to come over for a conversation.
As a leading large format printing service and tradeshow banner printing company, we receive a lot of questions from clients when it comes to the design aspects of their banners. Keeping these questions in mind, we've offered some tips that you can use to create sensational banners that work no matter where you're showing them.
1. Brainstorm With Multiple Designs
Don't just go with the first design, try out multiple concepts to choose from, and then place your order. Your printing service will just print the design and can only guarantee print quality – which becomes irrelevant if the original design doesn't appeal to the customer. At Mega Format, specifically, we review all the files to ensure that is high-resolution and get in touch with you about any problems with the files so that you get the best quality prints.
Ideally, the best designs are ones that go with your company's branding strategies across different platforms. You should keep in mind the company colors, text styles, and other design considerations that play a role in deciding brand presentation.
2. Some Basic Design Considerations
Your banners should always use high-quality images and employ an easy to read layout. Generally, the logo and company statement go on top, and everything else follows. We also suggest that you stick to simple text placements so that whoever reads your sign doesn't have to work to decipher what's written.
3. Extra Space May Not Be a Bad Idea
You shouldn't add excessive text or information on the banner – leave that to the staff. Excessive text creates a jumble that's difficult to understand what's written on the banner from a distance. If you're in a crowded space, your attendees won't have the time to read everything on your banners – instead, try spacing out the text and images to focus on the readability of the banner.
4. Think About The Banner Size
Your banner should make the most of your available space while keeping in mind that every other business will compete to grab the most attention. Small events don't require large banners so you can go with just a table-top piece or one of the smaller retractable banners. Retractable banners, particularly, take up little space since they go up right next to the wall and are very easy to set up too. However, large events with crowds of people attending might require large format printing to get your point across.
Need High-Quality Printing Services in NYC?
If you're looking for a high-quality rollup banner printing service in NYC, get in touch with Mega Format. We specialize in custom banner printouts for tradeshows and general advertising, including large canvas printing, retractable banner printing, retractable banner stand designs, and more.
Speak with us now for more information or to place an order for banners to use at your next trade show.