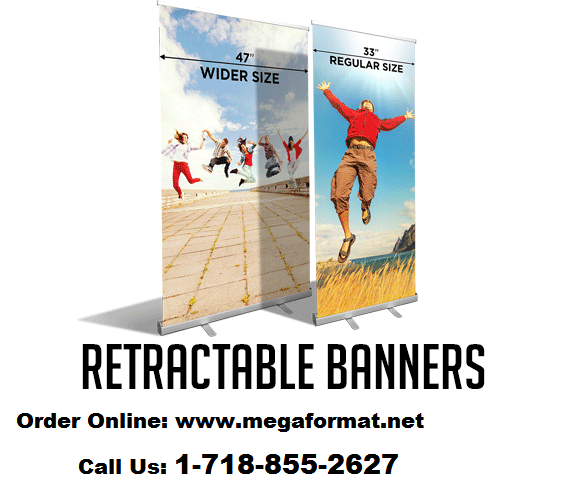 Banners are the new medium for advertising. It is your face of business, which helps to promote business and attract potential customers. Banners are one of the best tools to run a promotional campaign. Vinyl banners, Retractable banners Trade show banners are very flexible and versatile.  Printed banners are very colorful, so that it can attract customers.
Banners are very flexible which can be placed anywhere. These banners can be hung off the side of buildings or even on vehicles. One of the most common places for a banner to be hung is inside a mall or inside stores. When people are walking around in a mall, they are usually looking at windows or the corridor they are walking in. They rarely turn around and look at the walls. So, hanging the banner is of little use. However, banners can be used along with banner stands. Banner stands, as is evident from the name, is a stand for your banner. These banner stands solve the problem of the banners not being visible when hung. They can be placed at the ground level and at visible heights. They can be placed next to the walkways so that the potential customer can see it and be interested. These banners are very easy to handle as well.
The designs were created by some of the industry experts. These banners attract potential customers with ease. However, many customers opt to pay a small amount extra and go in for a customized banner. They come up with their own design. This design helps them stand out of the crowd and help attract even more attention.
Retractable banners, or pull-up banners, are best for any convention, trade show, or display. Whether you need them for one-off presentations, or as long-term, they are the best choice for their compact storage and fast set-up because they retract in one smooth motion. Retractable banner displays are a popular solution to displaying your banner in a vertical format.  These banner displays can be used for trade shows, retail displays, expos, presentations and conferences.
To print your own custom stand up banners, upload your artwork on https://megaformat.net/ , or call us for assistance: 1-718-855-2627. As retractable banners are made a bit differently from regular sign products, we recommend you try our retractable banner digital printing to ensure that your artwork is in the safe zone and that all bleeds and trims are accounted for. Retractable stand up banners come with a handy carrying case, making them ideal for easy storage and transportation.
Things to consider before buying a Retractable Banner
What size to you need
How often will it be used
Do you need a light
Budget
Mega Format provides high quality large format printing services for Large Format Printing and Trade Show Display. We are leading Digital Printing solution provider in Brooklyn New York. From more than decade in large format printing business, serving small to large scale industries and corporations. Our printing creative's are of high quality and at affordable price, which helps to enhance your business brand. Our top priority is quality and service, with the latest technology and creative in house team we produce the most professional prints in the large format market today.
Order your printing requirements through our online portal – https://megaformat.net upload your custom artwork and get printed product at your door step across USA, Free store pickup is also available for local NY customers. Order online or call us for assistance: 718-855-2627. Mail us for custom quote at sales@megaformat.net.