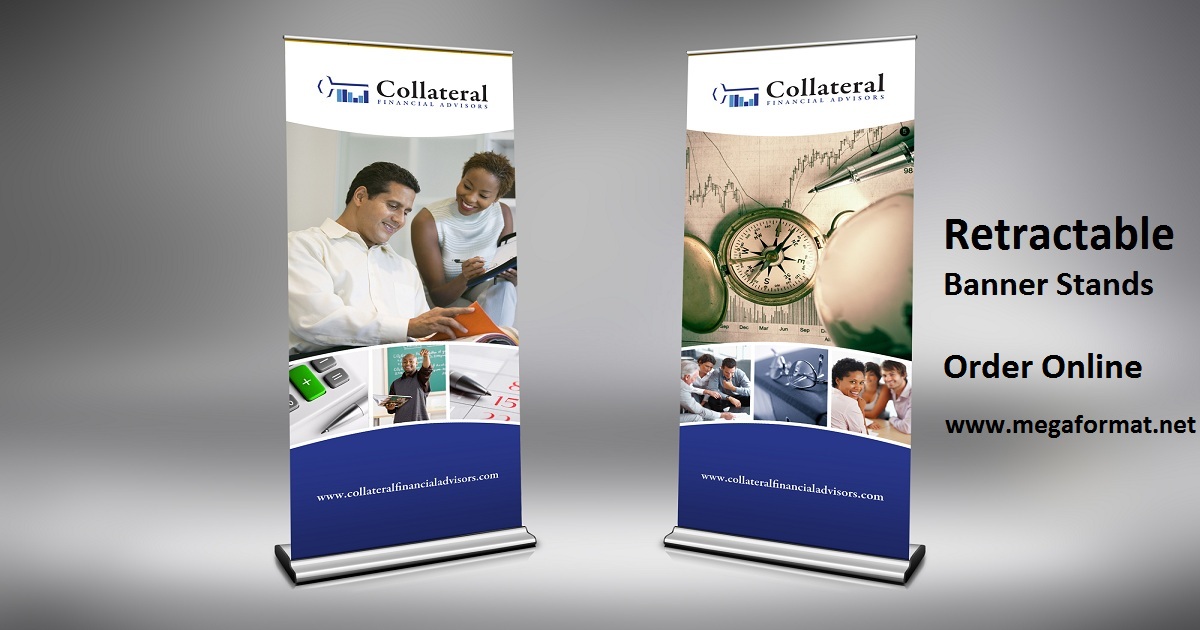 Retractable banner stands is also known as pull up banner stand. It is simplest set-up out for any trade show display. With their sleek and simple appearance the focus will be on your full color vibrantly printed banner graphics.  Sleek, simple appearance makes the looks of this roll-up banner stand one of our most popular trade show displays.
Banners stands are used throughout many events and trade shows on a regular basis. In general, they are easy to set up, portable and can be moved around with little effort. The retractable banner stand is the easiest to stand up and is considered an all in one type of banner stand.
The difference in set up that the retractable banner has is a marked difference. Instead of the banner it stands being two separate pieces; they are joined. The stand can be set-up in one motion which is pulling up and then hooking on. Pulling the banner out of the bottom hardware is like pulling a window shade down. The action is smooth and swift. Once you have extended it to the height you need, you simply attach it to the top of the support bar.
The retractable banner stand saves time, is more convenient and is of the highest quality. Regulars for events, shows and trade shows have come to the realization that retractable banner stands are worth the extra investment and continue to provide impeccable use time and time again. Banner stands, in general, are an excellent investment because of their purpose, price point and usability. If you are looking for that extra convenience, a retractable banner stand can achieve that.
Mega Format provides high quality large format printing services for Large Format Printing and Trade Show Display. We are leading Digital Printing solution provider in Brooklyn New York. From more than decade in large format printing business, serving small to large scale industries and corporations. Our printing creative's are of high quality and at affordable price, which helps to enhance your business brand. Our top priority is quality and service, with the latest technology and creative in house team we produce the most professional prints in the large format market today. We provides top quality large format printing for trade and wholesale, we serve sign shops, printer brokers and event marketing coordinators with many years of experience, our top priority is quality and service, and with the latest technology and creative in house team we produce the most professional prints in the large format market.
We print on a verity of materials, large posters laminated and mounted custom large banners for your trade show or special event, art posters or oversize photos, big advertising point of purchase displays, window graphics, contact us for your large format quote sales@megaformat.net.
Order your printing requirements through our online portal – https://megaformat.net upload your custom artwork and get printed product at your door step across USA, Free store pickup is also available for local NY customers. Order online or call us for assistance: 718-855-2627. Mail us for custom quote at sales@megaformat.net.