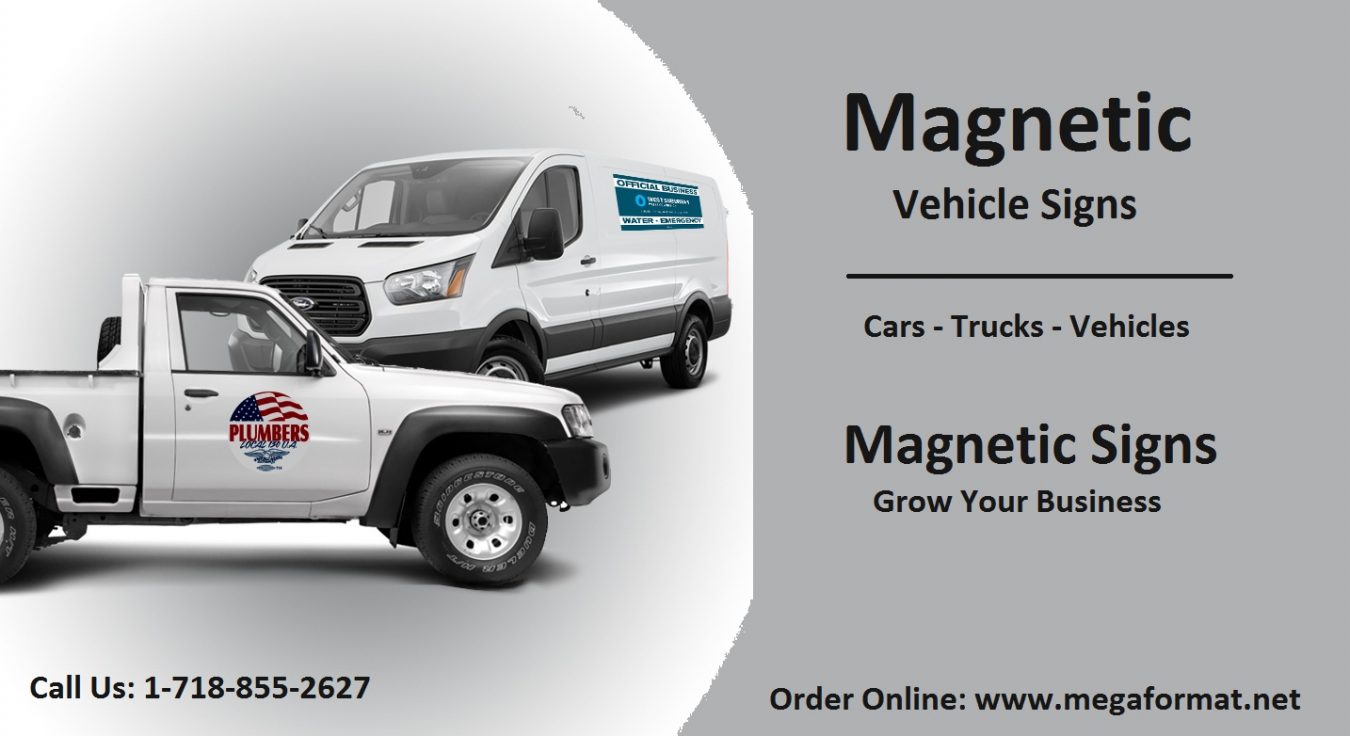 Advertising is the backbone for success of any business. Especially in today's time when competition has skyrocketed, creating effective awareness of a business has become even more important. There are many advertising channels available today, some are expansive and some are affordable.
Magnetic signs can be used on Cars, Trucks, Buses, Magnetic Truck Signs, Magnetic Vehicle Signs are used for front door placement of logo and company information which can be reused hundreds of times without ruining the paint of the vehicle. These services are known as Large Magnet Printing Services.
The magnetic signs are digitally printed in full color so there are no limits to what you can print on your sign. The magnetic signs include a lamination to help protect the print from the outdoor elements. We make magnetic signs for your at any size, any quantity in affordable prices.
Magnetic vehicle signs can be used for:
Advertising:  The magnetic car signs will give maximum exposure while simply driving and finishing off the task for the day. They are relatively inexpensive as compare to other options. So turn your vehicle into a moving billboard and advertise your business to your potential customers. Simply order to print your own custom magnet, stick them, peel them off, and reuse them several time. Our custom vehicle magnet signs are long lasting, durable and the perfect choice for removable advertising and promotion on business or personal vehicles.
Announcement: Fundraiser: Say what you want to say. Say it to everybody in your community. Get your message out – Make a statement, support a cause, call for a fundraiser or simply say you're a student driver :).  Use them for anything you want people to know.
Other than businesses magnetic signs are used by following organizations, including:
·         Schools
·         Churches & Nonprofits
·         Sports teams & Clubs
·         Awareness groups
·         Politicians and political parties
Mega Format provides high quality large format printing services for Large Format Printing and Trade Show Display. We are leading Digital Printing solution provider in Brooklyn New York. From more than decade in large format printing business, serving small to large scale industries and corporations. Our printing creative's are of high quality and at affordable price, which helps to enhance your business brand. Our top priority is quality and service, with the latest technology and creative in house team we produce the most professional prints in the large format market today. We provides top quality large format printing for trade and wholesale, we serve sign shops, printer brokers and event marketing coordinators with many years of experience, our top priority is quality and service, and with the latest technology and creative in house team we produce the most professional prints in the large format market.
We print on a verity of materials, large posters laminated and mounted custom large banners for your trade show or special event, art posters or oversize photos, big advertising point of purchase displays, window graphics, contact us for your large format quote sales@megaformat.net.
Order your printing requirements through our online portal – https://megaformat.net upload your custom artwork and get printed product at your door step across USA, Free store pickup is also available for local NY customers. Order online or call us for assistance: 718-855-2627. Mail us for custom quote at sales@megaformat.net.
Magnetic vehicle signs for cars or trucks can be ordered by uploading your custom personalized message or artwork at our website.
Megaformat.net's custom magnetic signs are a real deal for temporary advertising on cars, trucks and buses. Magnetic vehicle signs are mostly used on front doors, but hey! You can place it anywhere you like on your vehicle. A typical magnetic vehicle signs format contains your logo, service offered, and sale slogan with your contact information. Good thing is that it can be reused many times without ruining the paint of the vehicle.
Mega format Inc. uses high quality magnets that hold up even when the vehicle is in motion on smooth or tough terrains. To order simply upload your artwork, containing your logo, short service message and your contact information and we'll print it to perfection. All our signs are simple and lay flat across the door or on the back of the car.
Mega format also specialize in large magnet printing, ideally used for advertising on truck and vans.
Advantages of using magnetic vehicle signs or magnetic truck signs are:
1.   Increased recognition: The benefit of having truck door magnetic signs is that they increase the recognition of your brand. Old customers and potential new ones will easily recognizing your vehicles when you halt at the location. It helps in branding and remarketing as it attracts new potential customer, who might be looking for your service and also refreshes the memory of old customers who may need your service again
2.   Additional advertising: You may be using other forms of advertising and magnetic truck signs can act as an additional advertising by refreshing brand recognition, whenever it is on the road or parked on the street.
3.   Durability | No damage: If you use magnetic truck signs, you can forget about paint damage. Simply clean the surface of the car before applying the magnet and that will ensure no damage to vehicle paint or magnet. The sign can also be removed and reused as many times as you want, a magnet does not go bad, therefore it is durable.
4.   Unique and reasonable rates: The magnetic signs are printed on high quality magnets are unique to your business and cost less.
Instead of conventional advertising that costs dearly, magnetic signs are quite economical outdoor means. They are inexpensive and very effective in getting desired results. It enables to advertise everywhere the vehicle goes and you have freedom to remove it when you do not want it.