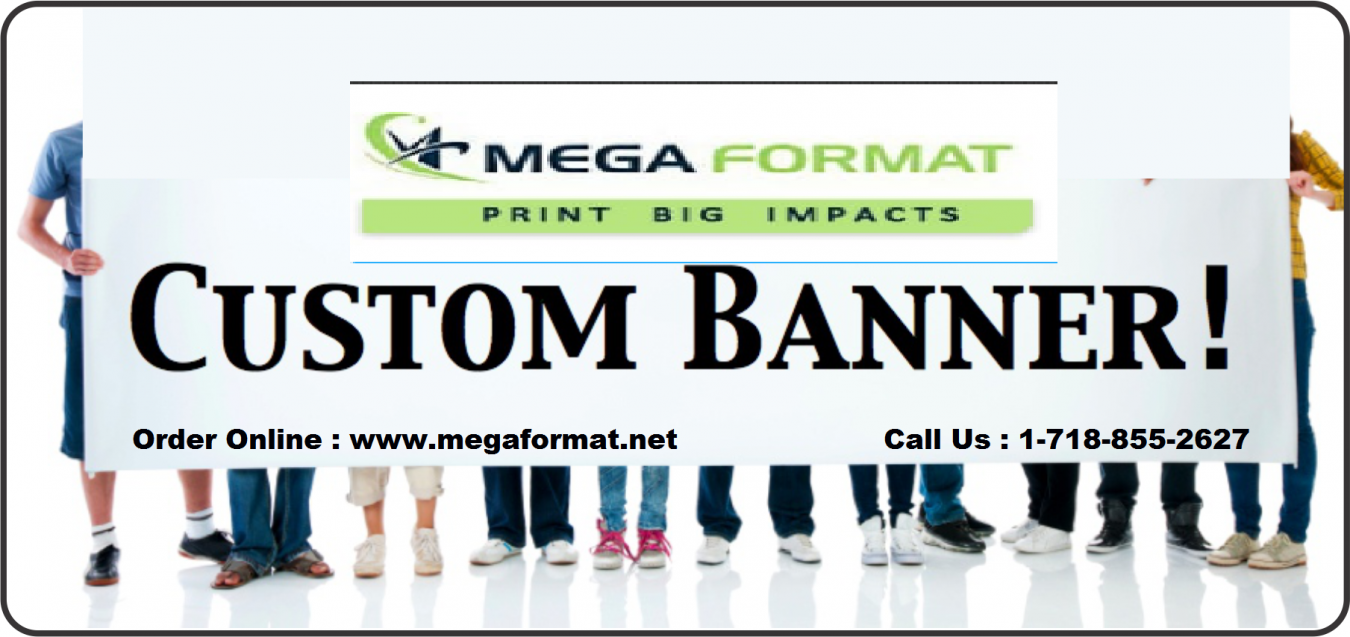 Custom Banners can be used for different range of purposes. It is actually one of the most potential advertising media that small businesses can use as it helps in spreading your marketing message so as to increase the overall efficiency of your business advertising budget.
Banners have different material that they are made with such as Vinyl, canvas, mesh or other fabrics and also there are various types of banners, which are Flag banners, Feather banners, Trade Show Display stands, Roll-Up banner  and many others. All these banners have their differences in shape and size but they all help in boosting your company's brand exposure.
There are so many ways banner display helps you business grow, some are listed below:
Attracts Attention and Foot Traffic: Banners are important tools for gaining attention for your brand or business as people tend to look at it and also read what it is all about, thereby unconsciously stamping your brand in their heads and memories, which is why you banners should have details how customers can get across to you.
Useful for Promotional Events and Trade Shows : Trade show is the perfect place where businesses, brands, goods and services can be showcased, thereby bringing more potential clients and expanding your business, which is why your banners should always be captivating in order to get people to stop at your stand.
Drives Quick Sales : Banners help increase sales because the details of your business or brand is on display already, so they can always easily copy out the office line to ask further questions or possibly purchase goods from you.
Works as Signage for Your Business: Banners can serve as your business sign when you don't have your permanent sign readily available, the banner would help get customers for your business before the permanent sign is ready.
Mega Format provides high quality large format printing services for Large Format Printing and Trade Show Display. We are leading Digital Printing solution provider in Brooklyn New York. From more than decade in large format printing business, serving small to large scale industries and corporations. Our printing creative's are of high quality and at affordable price, which helps to enhance your business brand. Our top priority is quality and service, with the latest technology and creative in house team we produce the most professional prints in the large format market today. We provides top quality large format printing for trade and wholesale, we serve sign shops, printer brokers and event marketing coordinators with many years of experience, our top priority is quality and service, and with the latest technology and creative in house team we produce the most professional prints in the large format market.
We print on a verity of materials, large posters laminated and mounted custom large banners for your trade show or special event, art posters or oversize photos, big advertising point of purchase displays, window graphics, contact us for your large format quote sales@megaformat.net. 
Order your printing requirements through our online portal – https://megaformat.net upload your custom artwork and get printed product at your door step across USA, Free store pickup is also available for local NY customers. Order online or call us for assistance: 718-855-2627. Mail us for custom quote at sales@megaformat.net.