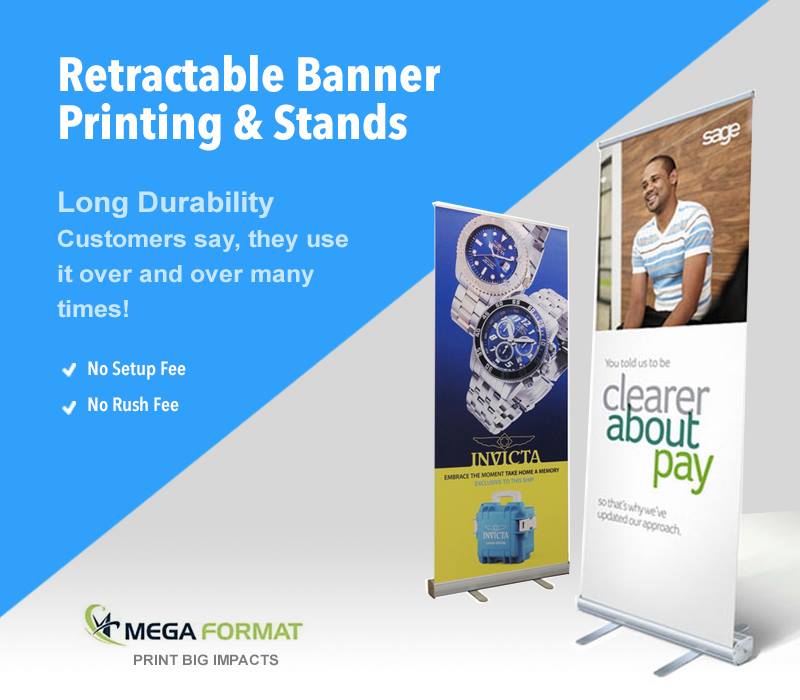 Retractable banners is one of the most popular forms of advertising, mostly used at exhibitions, trade shows, corporate or personal events and even at retail stores. Businesses or individuals use them as part of their event promotion strategy for many reasons – they are lightweight and portable, easy and quick to set up, durable and reusable. Retractable banner is available both as single sided or double sided. They are also well known as – pull up and roll up banners.
Mega Format provides high-quality large format printing services for Large Format Printing and Trade Show Display. We are leading Digital Printing solution provider in Brooklyn New York. More than a decade in the large format printing business, serving small to large scale industries and corporations. Our printing creative's are of high quality and at an affordable price, which helps to enhance your business brand. Our top priority is quality and service, with the latest technology and creative in house team we produce the most professional prints in the large format market today.
Order your printing requirements through our online portal – https://megaformat.netupload your custom artwork and get printed product at your doorstep across the USA, Free store pickup is also available for local NY customers. Order online or call us for assistance: 718-855-2627. Mail us for custom quote atsales@megaformat.net.
 Advantage of using retractable banners and order through megaformat.net are as follows
Low Cost: Printing Solutions are relatively very low cost; as compared to others form advertising displays.
Visibility:By using retractable banners at trade shows and exhibitions, which displays your message or custom artwork, will attract the potential customers to your booth or special event. And they are big enough to advertise your message clearly and professionally. Popular sizes we carry by width are 24″, 33.5″ & 47″, and based on how big you want your display to be, you can order them in 78″ (6.5 feet) or 90″(7.5 feet) height.
Portability:Since they are light weighted, the transport cost is next to nothing. These retractable banner collapses into its own base and can be easily packed and carried in the carry bag which we include with your order and can be taken from one event to another inside your car, overhead storage compartment on planes or trains or at the back of your truck.
Durability:The quality fabric we use (11 mil fabrics), its smooth finish on a bright-white matte base offers exceptional image quality, the fabric stays flat and won't curl ever. That is what makes our retractable banners durable for multiple usages, so you spend once and re-use it over and over again.
Print Quality:With years of experience in printing banners and working with thousands of customers, we understand how important your event is to you. Therefore we guarantee that we give you the best printing quality and material, ensuring 100% satisfaction or money back. We use best in class high-resolution HP printer to give you vibrant color output on non-curl quality fabric with latex ink which will not fade. Our experienced technicians ensure that your custom artwork is printed to its perfection, hence ensuring that you are not let down at your event.
Hurry order your printing requirements and get special holiday discount of 15% across all products on our online portal https://megaformat.net/– Simply use coupon code HOLIDAY15on checkoutOffer ending Dec 27th2017 or call for assistance: 718-855-2627.