The first and major benefit of truck magnet signs is that they increase the recognition of you and your vehicle. Advertising via truck is the best form, considering their huge size. Messages can be bigger, longer and clearer. One can read the message from distance also. Eye catchy bylines, colorful messages and vibrant colors can make your dull truck look like mobile outdoor advertising unit.
Apart from evident benefits, truck magnetic signs will enhance your business in many ways:
1. Vehicle graphics will transform your truck into valuable asset. Any place you move, your name goes with truck and you get maximum exposure.
2. It is cost effective form of advertising. Though initial costs may be higher, it is long term investment for your business. Minimum investment is required and so perfect for business with low budget for marketing as these magnetic signs are affordable and last long.
3. It elevates the community awareness and your business will have increased flow of enquiries; that can convert enquiries to sales.
4. The truck magnetic signs lasts long time and is visible all through the year. There are no ongoing costs involved in you own the vehicle.
5. Magnetic truck door signs are perfect for finding additional business for your organization.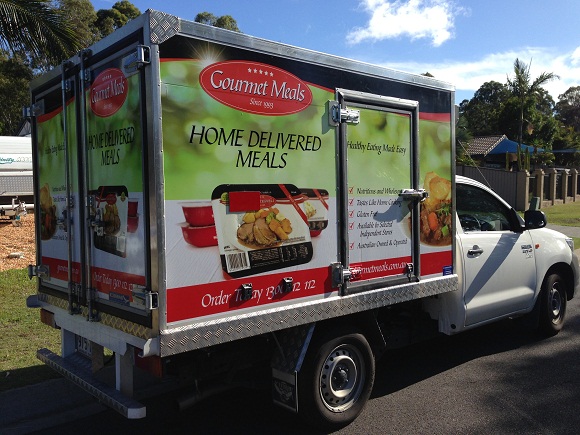 The truck magnetic signs provide following additional benefits:
Single purchase: Since the signs get attached to the vehicle, you need to purchase them only once. Here you do not have to pay fee to leave the message in your vehicle, which was there under traditional advertising. In other words, you can easily reach out many numbers of people without having to do anything but just place your magnet on your car.
No Work: Magnetic signs work for themselves and you do not need to work upon them once they are placed on your truck. So no spinning or moving required. The most work that has to be done with your magnetic sign is remove it if the work is over for the day and in case you chose to leave, you can leave it too.
No permanent vehicle modification: Truck magnetic signs use the metal in your car to stick instead of using sticky material or paint. This means that our truck door sign does not require any special attachment. Painting or sticking glue on the truck will ruin your vehicle and apparently reduce the resale value.
Increase visibility: They are great options to increase the visibility of your company while not risking damage on the vehicles.
Enhancing look: Magnetic signs enhance the look of a personal vehicle or commercial fleet while preserving ease of one minute removal.
By publicizing with attractive signs, you can make changes in your message frequently and highlight vital new management deals and advancements.
They are cost effective and versatile as they can be taken off and switched off very easily. In case you want to promote different promotion, just peel off the truck magnet and switch with other promotion.
They are highly customizable as per the advertising needs and requirements. Customization helps to stand out from your competitors.
Low maintenance and do not require much care.